News from 2013 Nurnburg Toy Fair
It's that time of year again when the manufacturers unveil their new product offerings for the year.  Here are the highlights so far.
BRM Slot presents a 1/24 scale McLaren F1 GTR in two liveries
Carrera has, as usual, a raft of new releases…
How about a 1/32 scale Porsche 904?
Looking at these two new cars reminds us of just how right Monogram got the same car 50 years ago.  But there's a bit of bad news.  According to published information the 904s will be available only in race sets this year.  Bummer.  We will investigate further to see if that's really true.
Here's another livery for the popular Carrera 1/24 scale Porsche 917.
And the 1/24 scale Cheetah.
Plus a 1/24 scale Ferrari 250 GTO.
Speaking of Ferraris, the really big announcement from Carrera this year is…
A Ferrari 512S in red…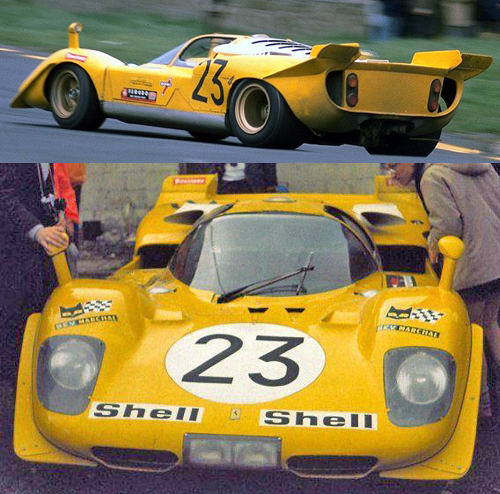 And in yellow.  You just knew they would make something for their Porsche 917s to race with.
If you like vintage touring cars on steroids this Alfa should please you.  We would prefer it without the wing.
Carrera is commemorating a vac-body car from decades ago with a kandy-kolor livery on its 1/32 scale Cobra. It may seem a bit garish to some but we have seen 1:1 race cars painted in color schemes like this over the years and they can be quite attractive. Just add numbers to the doors and a sponsor decal or three.
If you prefer something more traditional Carrera is also offering this Cobra livery in 1/32 scale.
Or this new 1/32 scale Cheetah livery.
This new Ferrari is a 1/43 scale car.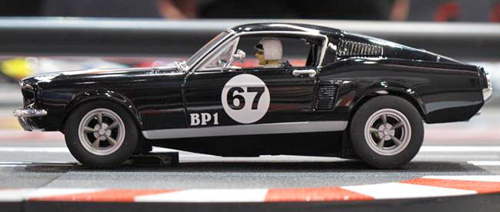 These two 1967 Mustang fastbacks in 1/32 scale are supposed to be vintage road race cars, but they stick up so far into the stratosphere they would look ridiculous on any road course.   This…
Is what they should look like.  Come on, Carrera, get it right!
Flyslot is not showing anything really new, but here are two interesting cars from their display.
This new Kremer CK5, along with an all-black one, is making its way onto dealers' shelves as this is being written.
Flyslot has been showing this Ferrari 512BB prototype for some time now, but we expect it to be in production fairly soon.
Slot It's new McLaren M8D is no longer a secret, but they are showing it in two liveries at the show.
Dan Gurneys 1970 race winner and…
The "Led Zeppelin" car from Europe's Interserie.  Here's a shot of the full-sized car in action.
MSC is showing a new Pantera…
In Jagermeister colors.  Is there any kind of European car Jagermeister hasn't sponsored?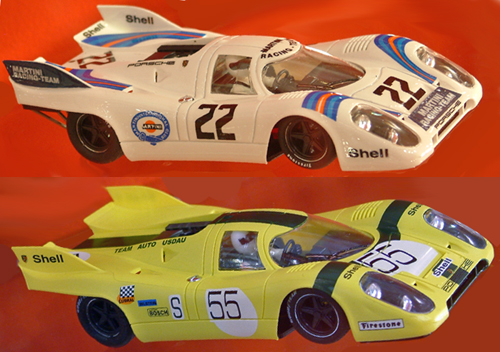 NSR is displaying these two Porsche 917s with the tail fins as used in 1971.
Scale Auto has two new SRT Vipers, one in 1/24 scale…
And one in 1/32 scale.
As well as…
An Interscope Porsche 935
And a Jagermeister Porsche 935.  No, there probably isn't any kind of European car Jagermeister hasn't sponsored.
We will have all the new 2013 cars from all the manufacturers up for preorder as soon as we receive the necessary information.
And even while the big toy fair is in progress we continue to get…
New items in stock
H&R HRCH05 Complete running 1/24 scale chassis – $43.50
H&R HRCH09 Complete running 1/24 scale chassis – $46.99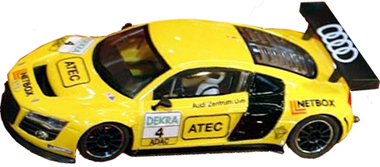 NSR 1114AW Audi R8 LMS, ADAC GT Masters Hockenheim #4 – $105.99
NSR 1408 Audi R8 body kit, white – $32.99
PMTR5006 Repro AMT brass chassis kit – $47.99

PMTR5007 Repro AMT brass chassis – $29.99

 Postage rates
We want to inform our customers of the postage  price increase which took effect January 27th. The US Postal Service has raised their rates across the board, and we have to follow. These rates especially  affect our first class mail international services. If you have any questions about shipping costs or shipping options to your location please contact our warehouse at (310)676-7600 or shop@electricdreams.com.
Thanks for shopping with us!
The Electric Dream Team
Warehouse phone (310) 676-7600
Slot car technical information and advice:  support@electricdreams.com
Our warehouse is open to walk-in customers Monday through Friday 9 am to 4 pm.  Next time you're in the greater Los Angeles area stop by and see us at:
606 Hawaii Street, Unit B
El Segundo, CA 90245
We're just minutes from LAX.
So how cool is this – maybe you've heard, maybe you haven't: Carrera has gained the world wide rights to to using Ferrari for slot cars! Here's the official press release from Carrera:
Carrera Gains World-Wide Exclusive Rights to Ferrari for Electric Racing
Cranbury, NJ January 2010 – No other automobile manufacturer electrifies its fans like the Italian road-rocket-smiths at Ferrari with fantastically crafted dynamics and fascinating designs. Out on the street and around the racetracks of the world these refined thoroughbreds from Maranello have been producing the ultimate automotive fantasies since 1947.
Now Ferrari and Carrera have come to a worldwide exclusive agreement for the slot racing sector. Carrera is the world market leader in electric slot car racing and this year the company is introducing breathtaking and exclusive historic and modern Ferrari models in various scales. The vehicles are authentic, highly detailed replicas of the originals in the premium quality and performance expected of Carrera.
Carrera DIGITAL 124 – Large scale perfection
The Ferrari 250 GTO was originally built in 1953-64 and is to be produced in three versions; Targa Florio 1964 "No.112″, '62 Sebring 12h 1964 and '62 – in the worldwide unique 1:24 scale format. The classic Ferrari 12 cylinder was given its name, as were its many successors, to reflect the cylinder capacity of each of its 12 cylinders: 250 cm3. Carrera is also introducing the successor of the 250, the Ferrari 330 as a '3/4 No.22' and the NART '67 version of the Ferrari 412P originally introduced in 1976. Whether intended for racetrack action or as display case exhibits – Carrera's new Ferrari models prove dreams do come true.
Carrera DIGITAL 132 – A blend of the latest technology and Italian automotive artistry
In the 1:32 scale digital format there will be two complete Ferrari sets and a range of five individual cars. In the 'Formula Racing' set the Ferrari F1 2010 by Fernando Alonso creates authentic Formula 1 racing fever Рat home. 'Ferrari Competition' sees drivers enjoy the Ferrari 599 XX in the racing version, or to be admired in the 'Geneva Motorshow' presentation variation. The Ferrari 599 XX is the second-most powerful sportscar ever produced by Ferrari and as with many other Carrera Digital 132 models it has front (xenon) and rear lights including brake lights. The Ferrari 458 Italia also enables Carrera fans to experience the brand new 570 bhp sport scar coupé from Maranello on a digital racetrack in two versions; a system allowing racing with up to six cars on a two lane circuit with top-speed overtaking.
Carrera Evolution: Great traditional Ferrari classics
This fantastic Scuderia output is also available in the Carrera Evolution analogue sector. A raised pulse is guaranteed by these complete sets: 'Ferrari Racing' – featuring two Ferrari 599 XX, and 'Ferrari Racing' – with the Ferrari F1 2010 in which Fernando Alonso duels with the McLaren-Mercedes MP4-24 'No.1', and is a guarantee for a heart-pumping action. Additionally, there are also two Ferrari 458 Italia raring to go. All Carrera Evolution cars can be re-equipped quickly and easily for use on the digital circuit.
Carrera DIGITAL 143 – digital adventures with the rearing horse
The digital 1:43 scale set up offers Fernando Alonso in the Ferrari F1 2010 in the complete 'Full Speed' set racing against Sebastian Vettel in the Red Bull RB5. The 5.6 metre track features a loop-the-loop and overtaking for up to three drivers creates a real-life Formula 1 home motodrome. The F1 2010 and the Ferrari 599 XX are also available in the 'Geneva Motorshow' set.
Carrera GO!!! – Spectacular action powered by Ferrari
The immensely popular Carrera GO!!! series offers a wide range of action features giving Ferrari fans almost too much choice. There are four Formula 1 complete sets to choose from! The 'Formula Cup' pits Fernando Alonso in an F1 2010 against the McLaren Mercedes MP4-24, and in 'Formula Masters' against Sebastian Vettel's Red Bull RB5. 'Formula Champions' features the duels with the French Renaults and 'Ferrari Champions' focuses on battles with team colleague Felipe Massa. The 'Sportcar Stars' also offers the additional excitement of the Ferrari 599 XX, paired here against the Porsche GT3 Cup. 'Ferrari Challenge' offers two possible versions of the 599 XX. The Ferrari 599 XX and F1 2010 are available as individual vehicles and can also be mostly found in the gigantic Carrera GO!!! accessories package. The Carrera GO!!! Models also impress with model-specific LED front lights, ground light effect or police lights
.