New items in stock
NSR 1090AW Audi R8 GT, United Autosports #22 – $99.99

NSR 1113SW Ford P68 (F3L), #7 orange, limited edition – $101.99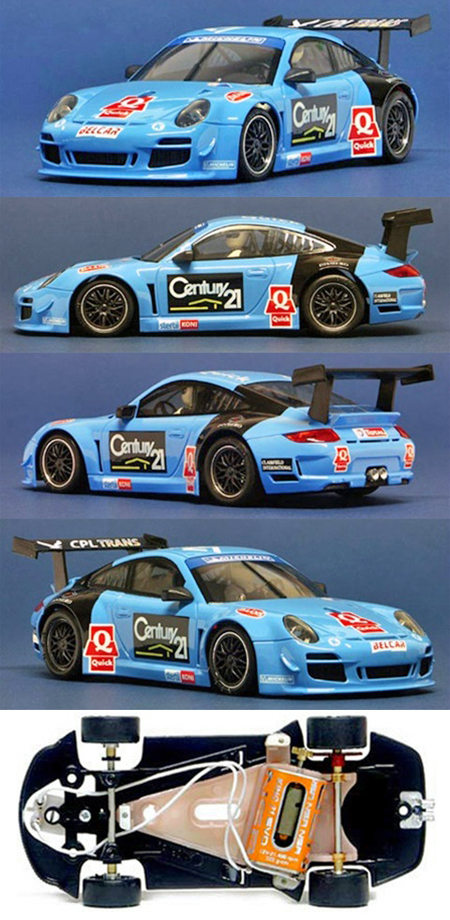 NSR 1116AW Porsche 997 Century 21 – $101.99
PSK 007-1 Ferrari 330LMB, LeMans 1963, race #12 – $229.99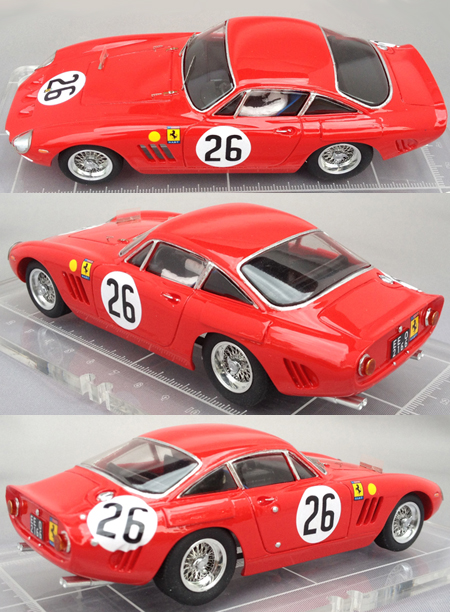 PSK 007-2 Ferrari 330LMB, LeMans 1963, race #26 – $229.99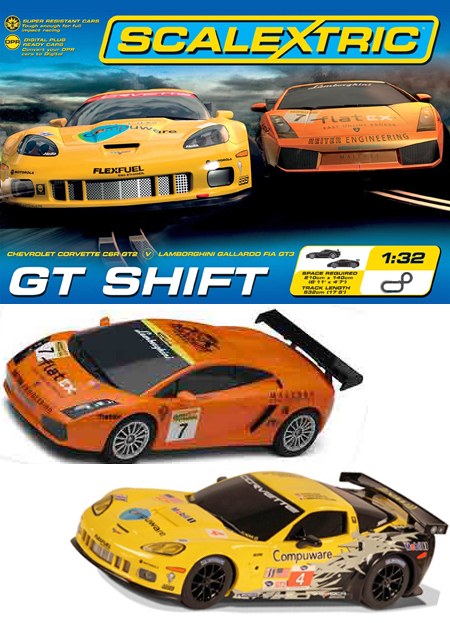 Scalextric C1298T GT Shift race set – $189.99
Slot It SICA23A Porsche 911 GT1-98 Jever – $64.99
Slot It SICA23Z Porsche 911 GT1-98, all white – $54.99
Reduced prices!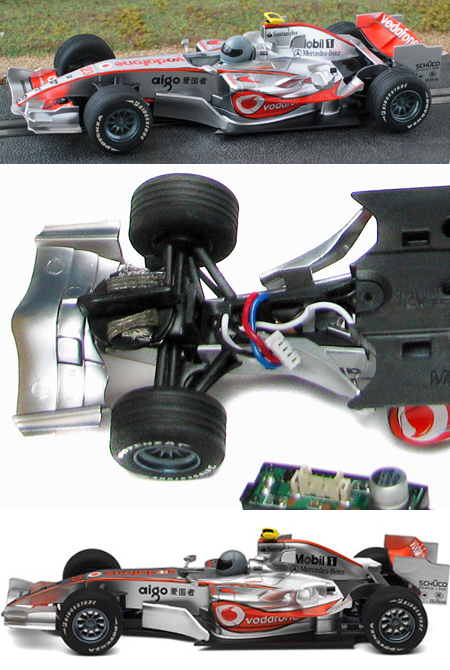 Scalextric C2866 McLaren F1, 2008, H. Kovalainen – $29.99

Scalextric C2888 Mustang GT, Jack Roush, Jr. 2007 – $29.95.  Was $47.99.

Check out all the great bargains on our web site at Sale Items–Great Values.
Updated product photos
When the manufacturers issue photos of the actual production cars it means their arrival is not far off.
Carrera 27402 BMW 2002 #48, 1975. Preorder now! – $34.99
Carrera 23777 Porsche 917 1971 Daytona winner 1/24 scale. Preorder now – $75.49
Slot It SICA16B Chaparral 2E #66. Preorder now! – $64.99
Kyosho Dslot 43 now in stock
We now have Kyosho Dslot 43 1/43 scale slot cars and the first Dslot 43 race set in stock and available for ordering.  We also have most of the parts in stock and will have them on the web site shortly.  At present, according to Kyosho USA, there are no track sections in the US yet but they are coming.
We recently tested a Kyosho 30204 Porsche 917, the model of the 1970 LeMans winner, on our Scalextric Sport track.   We found it to be a very well-made car, as you would expect from a 1/43 scale car that sells for $50.  It's a whole level or two above the quality and performance of the Carrera and SCX 1/43 scale cars we sell.   On our track, right out of the box it was quiet, smooth, and faster than any other 1/43 scale car we have ever driven.  Like other 1/43 scale cars it is well stuck down by its traction magnet.  This will not please the non-mag crowd, but for the other 98% of users it makes the car easy yet fun to drive with high limits, yet not so totally stuck down at to prevent a certain degree of tail-out cornering.  The Kyosho cars will be very confidence-building for beginners and children, making them excellent Christmas present material.  The chassis looks like it will make an excellent platform for resin bodies and other conversions.  The bodies are also available for those who want a very nice body to put onto a 1/43 scale scratchbuilt chassis.
More about Kyosho in a coming edition of this newsletter.
Pioneer Camaro release now scheduled for December
Prototype photos released
Pioneer recently released these photos of an unpainted '68 Camaro prototype.  the car uses the exact same chassis and running gear as the Pioneer Mustangs and will offer the same performance.  A vast effort, including multiple redesigns, went into getting the Camaro's shape and details to look right in 1/32 scale.  The first Camaros are now scheduled for release in December.
Along with the release of the prototype photos, Pioneer announced that the P011 Alan Green Chevrolet car and the P018 Penske car will be limited editions of just 624 each. 
Pioneer also announced several new Camaro liveries:
P033 Camaro 44 orange, standard production run.
P041 67 Camaro #96, Warren Fairbanks, standard production run
P042 Stealth Camaro 427SS.  limited edition of 427 units, nationwide.
We will have these on line for preorder shortly.
And then there are these…
The white one is P035 in pearl white metallic, 50 total worldwide.  the red one is P026 in ruby red, 110 total worldwide.  These will be doled out in ones and twos to dealers who order certain minimum quantities of the other Camaros. 
Thanks for shopping with us!
The Electric Dream Team
Warehouse phone (310) 676-7600
Slot car technical information and advice:  support@electricdreams.com
Our warehouse is open to walk-in customers Monday through Friday 9 am to 4 pm.  Next time you're in the greater Los Angeles area stop by and see us at:
606 Hawaii Street, Unit B
El Segundo, CA 90245
We're just minutes from LAX.
The new Carrera Ford GT slot car in  1/24 scale is a beautiful rendition of the 1966 Le Mans 24-Hour winning car, entered by Shelby Racing Enterprises on behalf of the Ford Motor Company. 

But did that car really win that famous race?
Since 1966 and the well-known "photo-op" finish with the three Ford MK2 prototypes crossing the line yards apart the controversy of a conspiracy by the French organizers to deprive Ford of an all-American finish has raged in America. So what really happened that gave the victory to the # 2 car, driven by Bruce McLaren and Chris Amon, both "kiwis", New Zealanders?
Dan Gurney and Jerry Grant, driving the Shelby team #3 car, led from the beginning, utterly dominating the Ferraris and all the other Fords, until 2 hours from the end when without any warning and as they were cruising to a sure win, the engine simply packed up. Meanwhile, the opposition faded away, and after 23 hours, Ken Miles, driving the # 1 car, had nearly a full lap lead over the # 2 car and two more over the surviving Holman & Moody Ford MK2 driven by Dick Hutcherson.  Miles was cruising to the finish when during his last pit stop he received an order from Carroll Shelby, talking to him inside the car. The wording of this order was never revealed in public, but the reply was. Miles did not take this lightly and replied, in a loud voice, "So ends my contribution to this bloody motor race", as he knew perfectly well  what could happen if he complied with the order from the Ford "brass". Indeed Miles was one of the few in the Shelby crew who had taken the time to read the organizing Automobile Club de l'Ouest rules.
McLaren took over the # 2 car during its last pit stop, where he told Chris Amon, "Ford wants a photo finish". Amon replied, "Who is supposed to win?" to which McLaren replied, "I don't know, but I'm not going to lose".
The simple truth is that Ford, represented by Henry Ford II, simply did not grasp the consequences of their decision, implemented as an order to Shelby and in turn, to Ken Miles. Miles had won at Daytona and Sebring and would be the first ever to win all three events the same year, something that Ford surely would have used for advertising their racing success worldwide.
After the three cars crossed the finish line, Miles first, then McLaren about 15 yards behind with Hutcherson in tow, crew chief John Colllins, chief mechanic Charlie Agapiou, and several members of the # 1 crew began pushing the car towards the podium, only to be stopped by ACO officials and told that they were in fact in second place.
What had taken place is that Ferrari's Mauro Forghieri, in a revengeful and spiteful move possibly engineered by a telephone call from Maranello, had lodged an unofficial protest to the racing direction, pointing out that while the Miles-Hulme car had indeed crossed the finish line 15 yards ahead of the McLaren-Amon identical car, it had started the race 40 yards behind it so had covered a shorter distance, and did not win. The chauvinist French officials, who would have preferred the red cars to win, seized the suggestion and immediately demoted the true winner of the race to second place, creating controversy and bitterness, likely in an attempt to ruin the Ford celebrations of the stomping Ferrari suffered.  Three years earlier, Ford attempted to buy Ferrari as a concern, racing team et all, and as the Commendatore nearly signed the paperwork, he had second thoughts and backed from the agreed deal. Ford then swore to beat Ferrari on the track, and indeed in 1966, they did just that, all the works and works-supported Ferraris having broken down hours earlier in an attempt to keep up with the faster armada of American cars.
Over the years, the many testimonies, accusations, innuendos and the like by English, French, Italian and German language period press really never resolved the issue to anyone's satisfaction, but the simple truth is that Henry Ford II made a mistake, that of ignorance, and missed a great chance of more publicity for his own personal triumph and revenge over Enzo Ferrari.
Carroll Shelby passed away a short time ago, taking with him many unpublished secrets, but not so secret to his close friends.
New Product Line:
We have just received our first shipment of the Carrera GO! 1/43 scale cars, race sets, and track. Go! is is especially effective as a low-cost way to get your children started in slot car racing. The cars are more than a little toylike in their look, but they run well and the system as a whole delivers good value for the money. GO! works well as a way to let your kids try slot car racing when you don't know whether they will stay with it for the long term and you don't want to invest a lot of money into a hobby that may just turn out not to be their thing. You can use it to give your 5 or 6 year-old his own track and cars that he can play with when you are not around to supervise him as he runs on your "grown-up" track that you have put lots of time and money into.
We also believe that 1/43 scale is beginning to evolve into a scale for serious enthusiasts, especially those who are limited spacewise but don't care for HO racing. Interest in 1/43 scale as a hobby rather than a toy is already developing, and we expect to see more scale appearing cars with higher performance emerging as time goes on. We have no trouble at all imagining a truly cool 1/43 scale racing layout with scenery and structures adapted from O-scale (1/48) model railroading and parking lots and pit areas filled with 1/43 scale diecast cars. GO! has many of the basics, including 2 different curve radii and an electronic lap counter, and we're sure there is much more to come from Carrera and other manufacturers. We will be adding all the new releases for 2008 as they become available and we will be actively seeking out other 1/43 scale products to add to our selection.
Clik here for GO! cars, here for GO! race sets, and here for GO! track and accessories.
New Items In Stock:
Carrera 30428 Peugeot 908 LMP, Digital 132. $50.99
Carrera 30291 Plymouth Roadrunner, street version, Digital 132. $45.79
Carrera 30292 Plymouth Roadrunner custom, Digital 132. $45.79
Carrera 30293 Plymouth Superbird, blue road car, Digital 132. $45.79
Carrera 30294 Dodge Charger 500 road car, Digital 132. $45.79
Carrera 30295 Dodge Daytona road car, Digital 132. $45.79
Vintage enthusiasts!
We have just placed an order for an expanded selection of Lexan reproduction Lancer 60s era bodies in both 1/32 and 1/24 scale. More info to come.
James Bond fan site MI6 reports Scalextric will introduce a special 007 slot car racing set to coincide with the release of the next Bond flick.
Scalextric is one of the leading slot car brands in the world. I (and a lot of other fans) can testify they make some sweet cars.
I own their Batmobile slot car, based on the one in 2005's "Batman Begins." The detail and craftsmanship is amazing.
The company's previous movie tie-ins have included "The Italian Job," "Transformers" and "The Simpsons."
Scalextric's Gotham City set "Bond 22" is the working title for the 22nd Bond film, which will star Daniel Craig as Agent 007, Judi Dench as M, Giancarlo Giannini, Mathieu Amalric, Anatole Taubman and Joaquin Cosío. "Bond 22" is due out Nov. 7, 2008.
These tiny cars whirl around on miniature racetracks, giving anyone the chance to be a race-car driver.
At Miracle Mile Raceways at 10837 U.S. Highway 441, adjacent to Home Depot, there are three tracks for slot-car racing. Co-owners Mike and Teresa Haire also sell slot cars, repair the cars, rent the cars and have materials such as stickers and paint for folks who want to build or decorate their own slot cars. Haire also can build a custom car.
They have races regularly and host group gatherings such as birthday parties. "The reason we got into this was I never forgot my father taking me to the slot-car track when I was 12," Mike Haire said. "I never forgot it." The cars are about 6 inches long, run inside slots set into the track and are maneuvered through hand-held speed controllers so each operator can control the car's speed. For young children or the inexperienced, the speed can be set extremely slow, so the cars stay on the track easier. "Young, young children can play. We can make it fun for them because we dial down the speed," Mike Haire said. In races, the object is to go as fast as possible, but without the cars falling out of the slots or "crashing," Mike Haire said. The 10,000-square-foot shop opened this month, and races are on Fridays. Mike Haire, 52, plans to hold state-sanctioned races, too. "We will host at least three state races a year, and we have high hopes that within two years we'll have nationals right here in Leesburg," Haire said. The shop is attracting all ages, from the very young to more mature. There's the 135-foot track, a 143-foot track that has the steepest bank, and a 73-foot track that's a figure eight and may be good for beginners. "It's essentially our party track because it's easier to navigate," he said. "For those of us in our 50s, this was the big thing in our teens," said Tavares resident and customer Bob Mansuy. "I used to do this when I was in my teens. When they opened, I thought I wouldn't care for it anymore, but when I did it, I felt like I was a kid again." Though cars are available at the shop, some prefer to use their own. Mike Haire has to inspect all the cars before they run on the tracks, however, because some cars were not built for Haire's current tracks. "A lot of guys will bring in cars from 30 years ago," Mike Haire said. Cars have to be oiled before going on the tracks, but Haire can do it, and he also sells equipment for that. Brad Bascom of Grand Island brings his 21-month-old son, Jacob, to play regularly. "He loves it," Bascom said. "It's easy for him to do. They turn down the speed for him." There are televisions for posting racing scores, and a computer can keep and sort individual racing times. Before opening the shop, Mike Haire sold alarm systems and commuter-airline parts such as gas turbine jet engines for about 17 years in the Central Florida and Tampa areas. Pretty cool to know that Slot Car racing is alive and well!