New low prices on selected Racer cars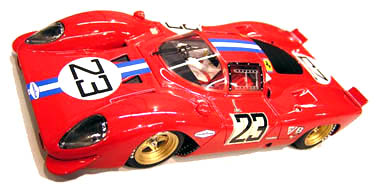 Racer RCR32 Ferrari 312P Daytona 1970 (C18) – $199.95.  PRICE REDUCED!  Was $269.99.
Racer RCR38B Ferrari 312P #19. LeMans 1969 – $199.95.   PRICE REDUCED!  Was $269.99.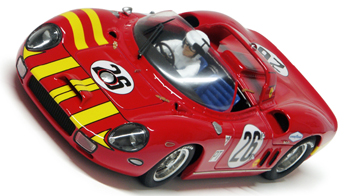 Racer RCR39 Ferrari 330P, Sebring 1965 – $216.95. PRICE REDUCED!  Was $289.99.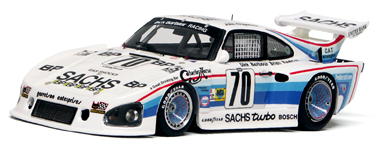 Racer RCR40 Porsche 935 K3, LeMans 1980, RTR – $199.95.  PRICE REDUCED!  Was $259.99.
Racer RCR40K Porsche 935K3 Sachs, unpainted kit – $115.95.  PRICE REDUCED!  Was $154.99.
Racer SW01 Riley-Matthews Riley Mk XX – $52.49.  PRICE REDUCED!  Was $69.99. 
New item in stock
Slot It SICA25A Porsche 962 IMSA, Daytona 1986 – $64.99
Carrera McLaren M20 project – the journey continues…
Last time we completed the mating of the TSRF rear pod to the Carrera McLaren M20 chassis, converting the car into a sidewinder.  Here's how the chassis looks now.
In this photo you can see the lead wires in place.  They were cut from a meter-long piece of silicone-insulated lead wire we keep on hand for projects like this.  Our web site sells silicone lead wire from many different manufacturers.  To find them just type the words lead wire into our site's search engine.  This photo also shows the brass washers we glued onto the rear body mounts to raise the rear of the body back up enough to clear the TSRF motor installation.  The washers are temporary.  Later we'll add some length back into the body posts.   You can also see the sanded rear tires (which need to be sanded a bit more).  The front tires have been turned down about 1/16″ to make the front of the car sit lower.  That's about all you can take off without cutting into the lettering on the sidewall.   If you don't care about that they could stand to be taken down a bit more to get the front edge of the body even lower.
We also did some work on the interior tray.  We like the intake manifold/injector trumpet detail incorporated into it, but with the new motor arrangement it's too thick to let the body sit at a proper height.  So…
We removed the roll bar and driver figure.  Then we cut the tray apart at the rear of the cockpit.  We then cut the intake manifold detail out of the rear part of the tray that we had just removed and then glued it to a rectangle of .020″ sheet styrene.  The little triangle snipped off one corner is to clear a contour on the underside of the body.  The hole in the styrene rectangle is for the roll bar's rear brace. 
We drilled out the broken-off mounting pins of the original plastic injector stacks, which are too fragile.  Into each hole we CA glued a piece of 1/16″ wire-filled tubing.    Using them as a very secure and sturdy mounting we CA glued a Parma #622 International 32 front axle spacer over each one. The result as shown at right above, is an engine intake detail assembly that is much more survivable than the original.  We'll paint the whole assembly before we're done.
Here's the car, put together for testing with the interior and engine detail temporarily taped in place and the body sides not yet put back on.  You can see that it's really starting to come together. The TSRF FK130 motor we're using is, as we suspected, too much motor for the power we want the car to be able to run on, a stock Scalextric power pack on each lane.  We know from experience it will eventually heat up the Scalextric pack enough to pop its internal circuit breaker. But for the moment it serves for testing, despite its 2-amp draw from rest.  We'll replace it with a better-suited motor before we're done.
The car still has too much magnet but it is much more drivable, even with the stock Monogram Greenwood tires on it.  Silicones will come a bit later.  As of now we've just had time to give the car some shakedown laps to see if everything is staying in place and all the moving parts are turning freely.  It's looking good, though we will still have to look for a way to get the magnetic downforce lower.  More about magnets in the next installment.
If you have comments or questions about this article please send them to support@electricdreams.com.
Thanks for shopping with us!
The Electric Dream Team
Warehouse phone (310) 676-7600
Slot car technical information and advice:  support@electricdreams.com
Our warehouse is open to walk-in customers Monday through Friday 9 am to 4 pm.  Next time you're in the greater Los Angeles area stop by and see us at:
606 Hawaii Street, Unit B
El Segundo, CA 90245
We're just minutes from LAX.
You knew somebody would do it…
And it looks like the somebody is Avant Slot.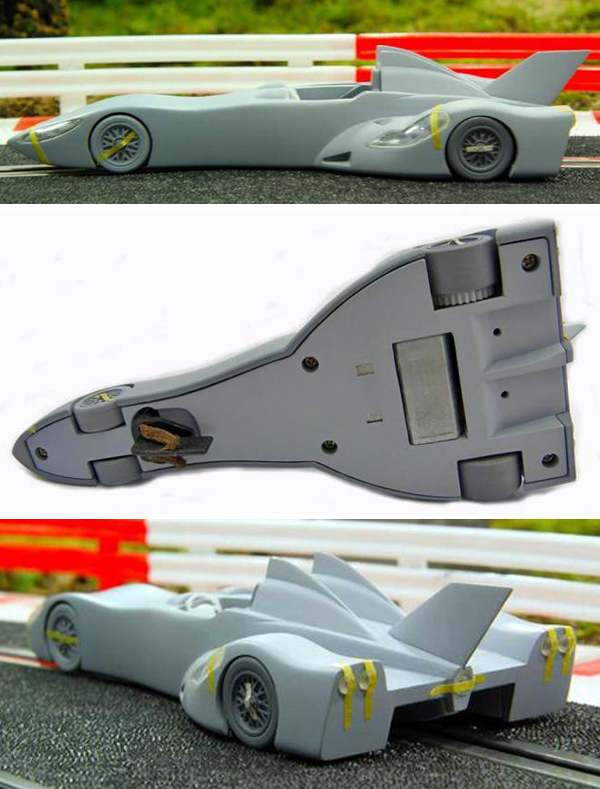 These photos of a 1/32 scale Delta Wing slot car under development by Avant have leaked out onto the Internet.  No information on price, release date, or technical specifications has surfaced, but this prototype looks like a very creditable effort.  It will be intriguing to see how it performs as a slot car.  If it doesn't perform, the body and chassis can be used as a starting point for building a model of an exotic sci-fi spacecraft.  The bottom view reveals how much the shape of the car resembles that of the Space Shuttle.  We'll pass on more information as it becomes available.
Carrera McLaren M20 project
Doing what (we think) we should have done to begin with…
Those of you who have been waiting breathlessly for the next installment in the Carrera M20 saga will recall that we got as far as testing the car with the inline Flat 6 motor and discovering that no matter what we did we couldn't come up with a magnet installation that didn't give us either not enough magnetic downforce or way too much.  We concluded that the solution might be to cut off the whole back of the chassis and make the car a sidewinder. So…we did it.
The first problem was, what chassis could we cut the entire sidewinder motor mount assembly off of to graft onto the M20 chassis?  We first considered the ubiquitous Fly rear pod, which has been around since shortly after the War of 1812, or so it seems.  We have used it successfully in several chassis projects, taking advantage of the ease with which it can be modified to accept a wide, long bar magnet that gives just about the right amount of downforce.  It has one significant drawback for this project, however,  It is made for the FC130 motor, which we don't want to use because of the low clearance under the rear part of the M20 body.  The FC130, unfortunately, has that plastic endbell, part of which sticks up above the top of the can and just won't clear the McLaren body. 
With a warehouse full of chassis and chassis parts we had no lack of alternatives to consider.  Finally we came up with a TSRF T3201 chassis center section, shown above.  Its virtues make it ideal for this project. First of all, it's cheap at $4.49.  If we ruin one cutting it up it's no big loss.  More important, it accepts an FK130 motor, which doesn't have the plastic endbell.    We speculated that if we went to a sidewinder installation we'd have to raise the back of the body back up a bit, and we were right, but the TSRF mount lets us fit the FK130 in place and snap in a bar magnet in one of three positions directly under the motor, the optimum location for a traction magnet.
The first step in the car's transformation from inline to sidewinder was to cut off everything on the chassis from the rear motor mount back. 
The next step was to cut the TSRF center section to the length of the rectangular area we had opened up in the Carrera chassis for the Flat 6 conversion. This created a sidewinder pod for the Carrera chassis. We also cut away some additional material at the left rear of the Carrera chassis, next to the left rear body mount, to fit the corner of the TSRF motor mount.   Test fitting revealed that we had cut the TSRF chassis a bit short, so we added a strip of sheet styrene at the end of the Carrera chassis cutout to space it back just enough to get the rear wheels in the proper location within the body's wheel openings. We also added small bits of sheet styrene as shown above to locate the pod exactly as needed and to fill gaps between it and the chassis cutout, providing plenty of surface area for CA gluing the two parts together.  The result was a snug slide-in fit with everything  positioned accurately to fit the body.  With the fit between the two adjusted we set the chassis on a hard, flat surface with a piece of paper in between to soak up any excess glue. We then applied medium CA glue to the mating surfaces on the pod, and slid it into place in the chassis.
When the CA had set we test-fitted the FK130 motor, also a TSRF unit, at least for now.  We had to cut away some material from the vertical structures just forward of the rear wheels to provide clearance for the motor shaft and the pinion gear. 
And this is what the assembled chassis looks like with the motor and axle assemblies installed.  The wheels and tires are from a Monogram Greenwood Corvette.  The Corvette rear tires are just enough narrower than the original Carrera McLaren wheels to fit the slightly wider sidewinder installation within the car's overall width. The Sterling mag wheels of the Greenwood Corvette look good on a CanAm car.  We used them previously on a McLaren M12 built on a Fly chassis.  The spur gear is a TSRF part. 
Here's a bottom shot showing clearly where pieces of white sheet styrene were added to fill gaps.  Before the project is completed we will paint the chassis so the white styrene won't show.
Next — remounting the body and more track testing.
If you have questions or comments about this article please send them to support@electricdreams.com
New items in stock
Scalextric C1309T Fast and Furious race set – $169.99
Scalextric C3373A Fast and Furious 2-car set – $129.99
Slot It SICA19C Toyota 88C #38 Denso – $64.99
Thanks for shopping with us!
The Electric Dream Team
Warehouse phone (310) 676-7600
Slot car technical information and advice:  support@electricdreams.com
Our warehouse is open to walk-in customers Monday through Friday 9 am to 4 pm.  Next time you're in the greater Los Angeles area stop by and see us at:
606 Hawaii Street, Unit B
El Segundo, CA 90245
We're just minutes from LAX.
New items in stock
NSR 1129IL Audi R18 E-Tron, LeMans 2012 – $108.99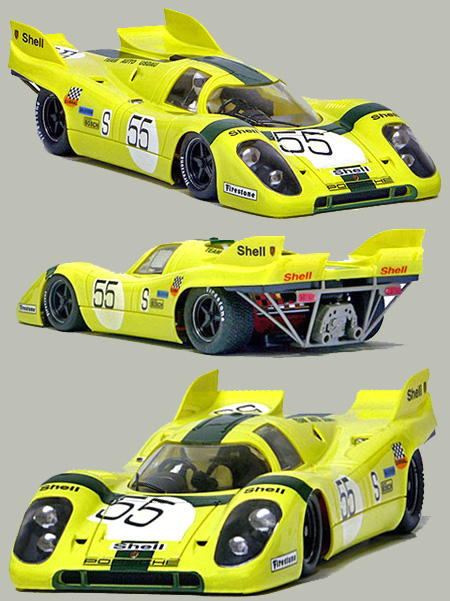 NSR 1137SW Porsche 917 Nurburgring 1971, yellow #55 – $108.99
Scalextric C3379 Lotus Evora #48 Petronas – $44.99
Scalextric C3387 Lotus Evora #49 Petronas – $54.99
Scalextric C3394 Bugatti Veyron road car, blue/white – $54.99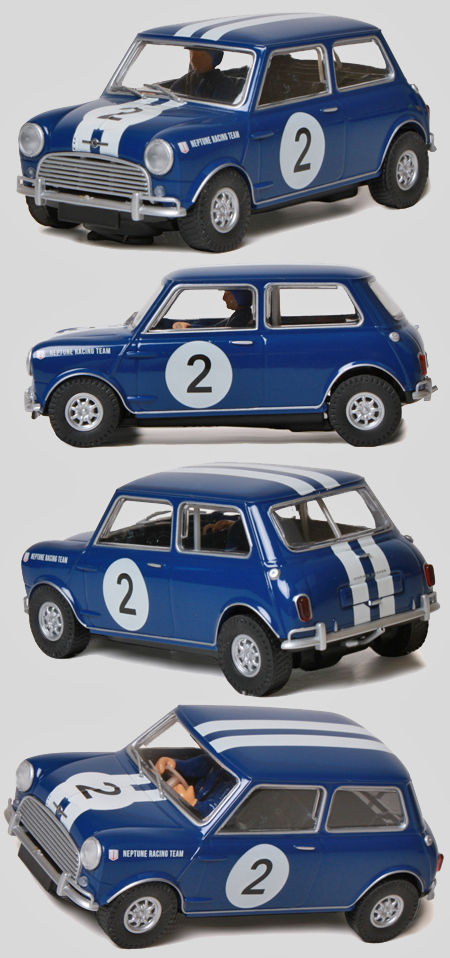 Scalextric C3405 Classic Mini Cooper S, Australian Touring Car championship – $54.99
Carrera McLaren M20 update
At the end of our last update we had finished the Flat 6 motor installation and lowered to body over the chassis as shown above. The next step was to work on the magnet installation.
Before getting into that it's probably a good idea to say a few words about magnetic downforce.  The longest-running and most heated debate in the world of slot car racing is magnet vs. no magnet racing.  We will not revisit that debate here except to note that there are vehemently held beliefs on both sides and it will never really be resolved except by the two sides simply agreeing to disagree. 
However, it is interesting to look at one particular part of the issue.  Perhaps the biggest (though by no means the only) knock against magnet racing is that once allowed, magnets are inevitably taken to the absolute extreme possible, resulting in cars so stuck down that they essentially don't need to be driven.  This was largely true, though not without exceptions, as long as there was no uniform, reliable, and readily available means of monitoring and limiting magnetic downforce.  That changed several years ago with the introduction of the Magnet Marshal.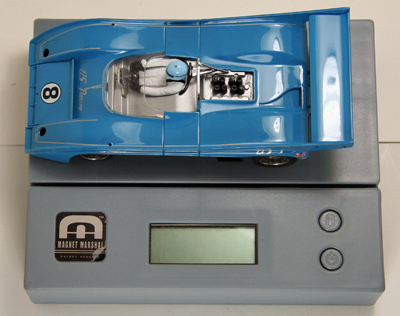 The Magnet Marshal makes controlling downforce to any desired level utterly simple.  Even better, it generates a total downforce reading that includes both car weight, including added weight, and magnetic force, allowing both the be controlled at once.  Each individual tuner is free to use either or both in combination up to a single specified reading. Now, with a way to limit downforce and some creativity in magnet use it is quite possible to tune magnet cars to drive a lot more like non-magnet cars but with higher cornering limits.  Those limits can be set at whatever is deemed to produce the best racing and driving qualities.  What that does is to create a middle ground between the extremes.  It's no longer necessarily an either-or proposition.
By the way, we are well aware that the initial 1000-unit production run of Magnet Marshals sold out quite some time ago and they are now hard to come by.  The good news is that the manufacturing rights to the device are now owned by Alan Smith of Scaleracing and 132 Slotcar.  He is moving toward being able to commission another production run.  He told us recently that the minimum run is again 1000 units, and he needs order commitments for a large portion of that number before he can go ahead. Electric Dreams has committed to order, and if other dealers around the world will do so we will again have this very useful device available for hobbyists to purchase.
Our goal for the M20 is a Magnet Marshal reading of 300 grams.  This is quite modest but can be a bit tricky to achieve on some cars. The Flat 6 installation required removing the front magnet, leaving us with only about 200 grams from the rear one. So, we have begun trying different configurations.  The first one was extra magnets added on either side of the crown gear just aft of the stock magnet.  That didn't really do much to help.  Next, we removed the stock and added magnets and CA glued a Professor Motor 1030 1mm thick bar magnet as shown below.  We first removed the motor so we wouldn't accidentally glue the motor and magnet together. 
This is the thinnest bar magnet available.  Even so, it caused the car to register 400 grams.  What we really need now is a pair of rear tires just a little larger in diameter than the stock ones.  It doesn't take much of a change in tire diameter to make a significant change in magnetic downforce.  We are investigating tire options.  It would be no trick if we went to aluminum wheels, but we are going to try to stick with stock plastic replacement wheels of one kind or another, at least for the time being.   We should mention, by the way, that the car came to us with a pair of Maxxtrac M32 tires on it, so we simply incorporated them into the package.
As shown here, we put a piece of strapping tape over the magnet to prevent possible contact with the track.  We then put the body on, leaving the screws loose for float, and went to the test track.  As we expected, the car was too stuck down for our taste.  It was actually at the point where it would have been better with less magnet drag on the straights.  One thing really impressed us, however.  Even with all that downforce, the Flat 6 motor hardly got warm, even after a half hour of more or less constant running.  We will keep working with magnet and tire options until we get the Magnet Marshal number we want.
If you have comments or questions about this article please send them to support@electricdreams.com.
Thanks for shopping with us!
The Electric Dream Team
Warehouse phone (310) 676-7600
Slot car technical information and advice:  support@electricdreams.com
Our warehouse is open to walk-in customers Monday through Friday 9 am to 4 pm.  Next time you're in the greater Los Angeles area stop by and see us at:
606 Hawaii Street, Unit B
El Segundo, CA 90245
We're just minutes from LAX.