If you were to compile a short list of the most influential people in the history of motor sport, Carroll Shelby would have to be on it.  His achievements transcended the confines of the automotive world and became part of American popular culture and folklore.  His Cobras, Mustangs, and Ford GT40s resonated in the consciousness of millions of people who otherwise never paid much attention to racing.  They became historic icons and demonstrations of American prowess on the race track and on the world stage – literally patriotic symbols that touched the very center of what it meant to be American.
Even before he began racing Shelby had lived a varied and adventurous life.  He was a military pilot, an oil field roughneck, and, of all things, a chicken farmer, to name only a few.  He began his racing career in the car-crazy culture of southern California, competing in road races in an array of different cars.  Before long, he was able to move to Europe, then the undisputed world center of sports car racing.  He often drove in the bib overalls he had worn on his chicken farm.  The rarefied world of sports car racing had seen titled aristocrats competing in blazers and ties but never anything quite like this.
The highlight of Shelby's career as a driver came in 1959 when he and Roy Salvadori won the 24 Hours of LeMans in an Aston Martin DBR1.  But not long after his LeMans victory he was diagnosed with a heart condition that forced his permanent exit from the racing cockpit.  His drive and spirit of adventure remained undiminished, however, and he began looking for other things do do.  When Ford debuted its small-block V8 engine Shelby's fertile mind made the connection that would make him world famous.  He immediately saw that Ford's V8  weighed little more, and sometimes less, than the 4 and 6-cylinder engines powering most of the world's production sports cars while easily delivering twice the power with potential for much more.  He figured that all he had to do was combine it with an existing production chassis  to make a car with Ferrari-level performance at a fraction of the price, a car that could be serviced by any Ford dealer and prepared for racing using a wealth of aftermarket performance parts already being designed and produced.
The result, of course, was the Cobra roadster, one of the most iconic cars ever produced and certainly the most imitated and replicated.  Shelby persuaded Ford to supply him with engines and British sports car builder AC Cars to provide slightly upgraded examples of its Ace sports car, minus engines.  The first Cobra built was used as a show car. Displayed at auto shows and other events and used for giving journalists test drives, it was repainted several times in different colors to give the impression that numerous cars had already been produced.  The second one became the first Cobra race car.  Almost from its debut in 1962 the Cobra cut a swath through big-bore SCCA production-class racing unequaled before or since.  Competing primarily against Corvettes and E-type Jaguars the Cobras dominated the production division of the US Road Racing Championship (USRRC) and could even be a threat in the modified class.  By 1963 Shelby had a team of Cobra roadsters competing in European FIA events, driven by some of the greatest drivers of the day such as Dan Gurney, Phil Hill, and Bob Bondurant.  in 1965 Shelby introduced a redesigned Cobra roadster powered by Ford's mighty 427 cubic inch big block engine.  It went on to win SCCA races and championships for years to come.  One was clocked at 198 mph on the oval portion of the Daytona road course, establishing the 427 as the most fearsome Cobra of them all.
The roadster was far from the only project underway at Shelby's factory near the Los Angeles airport.  The success of production class Cobras led almost inevitably to the idea of combining the Ford V8 with one of the mid-engined sports-racing cars of the day to produce a dominator for the modified class of the USRRC.  Two chassis immediately suggested themselves as candidates for the transplant – the Lotus 19 and the Cooper Monaco.  After evaluating both, Shelby's brain trust chose the Cooper, a heavier but stronger car deemed capble of accommodating a huge power increase more successfully.  Before long a batch of cars modified by the Cooper works to Shelby's specifications arrived at the Los Angeles factory and shortly thereafter, V8 engines installed, were on the USRRC starting grid.  As with the roadsters, the Cooper-Cobras, sometimes called King Cobras, quickly became the cars to beat in 1964.   Also during this time Shelby's shop shoehorned a Ford engine into a Sunbeam Alpine and developed it into the prototype Sunbeam Tiger.
When Ford introduced the Mustang in 1964 the company was eager to build an image for it through racing and Shelby was the obvious choice to make it into a winning race car.  The GT350, as Shelby's modified Mustang fastback was dubbed, combined Cobra performance with at least some measure of real-world practicality for a wider range of drivers.  The racing "R" version was a stripped down race car that more than met Ford's performance and image-building objectives, helping make the Mustang one of the auto industry's great success stories.  In its first season of competition driver-journalist Jerry Titus drove a GT350R to the SCCA B-production national championship.
By the end of the 1963 season the Cobra team had learned from experience that while the roadster had plenty of power to beat the competition on short, twisty courses it fell short of the aerodynamic qualities needed to win on high-speed circuits like LeMans against slickly-bodied competitors such as the Ferrari 250 GTO.  Fortunately, the solution to the problem required only following Ferrari's example, taking advantage of the same provision of the FIA GT class rules that had allowed Ferrari to build and race a very limited number of GTOs based on the Ferrari road car chassis.  Shelby hired designer Pete Brock to create an aerodynamic Cobra coupe to win the FIA GT championship.  Brock's design first appeared at Daytona in February of 1964 and was immediately named the Daytona Coupe.  It led its class against a pack of GTOs until a fire during a pit stop forced its retirement. From there, however, the coupes, soon six in number, went on to a string of victories including a class win at LeMans with Dan Gurney and Bob Bondurant sharing the driving.  Because the Cobras did not contest all the races in 1964 Ferrari managed to squeak out the championship, but the following year the Daytona Coupes did take the championship away from Ferrari.
LeMans, 1964, featured the much-anticipated debut of Ford's GT40.  This sleek sports prototype car was more than just Ford's bid for international recognition as a builder of world-class cars.  It became, for many Americans, a patriotic exercise pitting the new world against the old.  The GT40, with its top speed in excess of 200 mph, showed great promise but lacked development and, therefore, 24-hour durability. None of them finished the 24 hours that year and their unreliability continued through the rest of the season.  The Ford racing department concluded that it needed to put the GT40 project, scattered among several organizations, into the hands of one contractor that could take total responsibility for making the car a winner.  Impressed with Shelby's Cobra successes, Ford gave him the job.
As soon as the cars arrived Shelby's team launched into an intensive testing and development program that uncovered and fixed many of the design's weaknesses.  They took a set of heavily revised GT40s, now painted in Shelby's trademark electric blue and white color scheme,  to the Daytona 1965 season opener and scored an overall win, sweetened further by a Cobra victory in the GT class.  At Sebring a few weeks later the GT40s raced through a downpour of biblical proportions and again won  the prototype class, outrun only by Jim Hall's Chaparral, a lighter car built to much less restrictive rules and competing in a different class.  At Le Mans the GT40s again failed to go the distance, but this time they set such a fast pace for so long that all the works Ferraris ran themselves into the ground trying to keep up, and the win fell to Jochen Rindt and Masten Gregory in a privately entered, semi-obsolete Ferrari 250LM.
Two of the Fords at LeMans that year were the ferociously fast MkII version, powered by a 7-liter (427 cubic inch) derivative of Ford's successful NASCAR engine.  Though they did not finish they clearly showed the way to future victory, and the MkII became the focus of Ford's and Shelby's development for 1966.     The project had grown so large that Ford's prime NASCAR contractor, Holman-Moody, was brought on board to manage part of the Ford armada.
The 1966 season opened once again at Daytona, the race distance extended now to 24 hours.  Shelby's lead driver, Ken Miles, won the event with Lloyd Ruby, the Fords proving utterly dominant.  They won again at Sebring.  Ruby, by the way, was an inspired choice as a teammate for Miles.  He simply drove the car with whatever setup Miles wanted and always managed to go fast.  It made them a formidable pairing.
The 1966 LeMans race was one for the ages.  Heavily covered and promoted by ABC television, it introduced millions of Americans to the exotic world of sports car endurance racing.  it was the decisive showdown with Ferrari that Henry Ford II had sought ever since Enzo Ferrari had spurned Ford's attempt to buy his company.  From the start the red Shelby-entered car of Dan Gurney and Jerry Grant drove away from the Ferraris and the other Fords.  It seemed on its way to an easy victory until the 13th hour, when Grant brought the car to the pits with overheating.  Attempts to cure the problem failed and Gurney and Grant were done. By the last hour, Fords were running 1-2-3, well clear of all opponents, with Miles leading.  Henry Ford II decided he wanted a photo op finish with all three MkIIs passing under the checkered flag together.  Miles, with nearly a full lap lead on second-place Bruce McLaren, got the order to slow down and let McLaren catch up.  The third car, driven by NASCAR driver Dick Hutcherson, was two laps down.  The three cars crossed the line together with Miles slightly ahead.  Clearly, Miles had won the race, achieving the LeMans victory his performance and contributions to the GT40 project fully deserved – or so everybody thought.  Then the French officials announced that Miles had not won after all.  Because McLaren's car had started the race several tens of yards behind that of Miles it was ruled to have covered a greater distance and was declared the winner.  It was a bitter blow to Miles, denying him not only his LeMans win but also the distinction of being the first driver to win Daytona, Sebring, and LeMans in the same year.  Wild rumors of conspiracy and manipulation sprang up and have loomed over that day ever since.
For Carroll Shelby it was the crowning glory of his career, forever cementing his place in the pantheon of motorsports immortals, only slightly tarnished by the finish line fiasco.  It was the most historic and significant LeMans victory of all time.  Following the ABC coverage of the finish, the network's national evening news led with the announcement of Ford's crushing 1-2-3 finish, the first time anybody in America could remember a motorsports event other than the Indianapolis 500 being accorded such prominence.  It was treated not just as a triumph for Ford but also for America.  And Shelby was the central figure in that triumph.
His team won again in 1967, probably the most dominating victory in LeMans history.  Dan Gurney and A.J. Foyt cruised to the win in a Ford MkIV, developed from Ford's radical J-car, which had been tested in 1966 but not raced.  Their car was so superior they could run most of the race conservatively enough to also win the Index of Performance prize, an award that usually went to tiny 1-liter French cars.   It was a victory tinged with tragedy, however.  Ken Miles had been killed several months before at Riverside in an accident during a J-car test.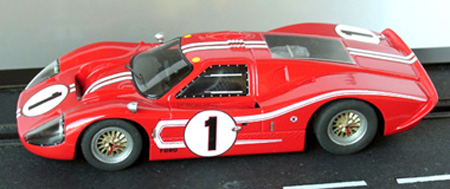 Shelby also enjoyed success in the TransAm series.  His Mustang coupes,  prepared using techniques developed for the GT350, were the key to championship wins for Ford in 1966 and 1967.  Jerry Titus was Shelby's lead driver in the series.  The Shelby TransAm cars, in the hands of many different owners and drivers, also won SCCA races for decades afterward, as did the Cobras and GT350s.  Virtually every competition car he had a hand in still carries on his memory at vintage car races all over the world.

By 1971 Shelby had closed down his racing operation but he remained active and involved in the world of automotive performance.  Over the succeeding years he had his hand in many projects, including concept cars of his own design, input into the development of the Dodge Viper, and other projects for Ford, Chrysler, and General Motors.  He also created the Shelby CanAm spec racer for the Sports Car Club of America and produced "continuation" Cobras made official by VIN numbers issued in 1966 but never used.  And last but not least, he marketed a mean package of chili mix.  He also had a continuing relationship with the Ford Mustang, lending his expertise and name to a series of  limited-edition Mustangs with ever-higher performance numbers.  At the time of his passing he was working on the development of the most powerful Mustang of all, a 1000-horsepower monster.  At the age of 89 he was looking forward to driving it at 200 miles per hour.
There are few, if any individuals whose automotive creations have been more frequently or extensively modeled by the world's slot car makers (not to mention manufacturers of full-sized kit cars).  The slot car hobby owes him a debt of gratitude for inspiring some of the most popular and collectible slot cars in its history.  And the parade of new Cobra, GT40, and other Shelby car model releases is far from over.  Carroll Shelby will continue to fire the imaginations of slot car racers as well as enthusiasts of full-size racing for a long time to come.  A saying attributed to Shelby went something like this:  I'm not a mechanic.  I'm not an engineer.  I'm not anything in particular.  But I know that if you put good people together and let them do what they do best amazing things can happen.
Amazing things can happen. And they did.
Rest in peace, Carroll Shelby.  You will never be forgotten.
Thanks for shopping with us!
The Electric Dream Team
Warehouse phone (310) 676-7600
Slot car technical information and advice: support@electricdreams.com
Our warehouse is open to walk-in customers Monday through Friday 9 am to 4 pm.  Next time you're in the greater Los Angeles area stop by and see us at:
606 Hawaii Street, Unit B
El Segundo, CA 90245
We're just minutes from LAX.
Interesting (and sad) that the same week that Slot Car maker, Carrera comes out with the Ford GT40 MkII, LeMans 1966 (modeled after the car that was the first American car to ever win that race), the racing world loses the designer of that car.
The following from an article by Pete Lyons that originally appeared on Autoweek.
Auto legend Carroll Shelby died Thursday night, May 10, 2012 at Baylor Hospital in Dallas at the age of 89.
Carroll Shelby's shadow stretched out Texas tall across nearly the whole of the world's automotive landscape. A natural as a race driver, he won three U.S. sports-car championships in Ferraris and Maseratis, and for Aston Martin he won the 1959 24 Hours of Le Mans with British co-driver Roy Salvadori.
Turning automaker in the 1960s, he fathered the Cobra, an Anglo-American hot rod of crude conception but stunning effectiveness that swept the tracks of North America and wrested a world manufacturer's title from Ferrari. Additional success came with his makeovers of the Ford Mustang, which resulted in Trans-Am racing titles and the ferocious Shelby GT350 street car. As a team owner, he presided over Ford's epic 1966 and '67 Le Mans victories.
Shelby is believed to be the only person to win Le Mans as a driver (with Aston Martin), a manufacturer (class victory with the Cobra Daytona coupe) and team owner (Ford's GTs).
This wonderful tribute article from Autoweek Magazine goes on to say:
In company with so many of the world's outstanding achievers, Carroll Hall Shelby had modest beginnings. He was born on Jan. 11, 1923, in the small east Texas town of Leesburg, the son of a rural mail carrier. When Shelby was 10, the family moved to Dallas, where his father became a postal clerk and the boy discovered auto racing.
"I used to ride my bicycle to the old bullrings around Dallas when I was a kid, 12 or 14 years old," he recalled decades later. "So I've always had my interest in cars, that's always been my No. 1 interest."
Finances did not permit expressing that interest in sanctioned competition, but Shelby did what he could on the streets. His first car was a family hand-me-down, a 1934 Dodge that he immediately determined would do only 87 mph, tops. His next ride was no less disappointing, even after he shaved the head. "It was a '38 Willys, old four-cylinder Willys. Wouldn't outrun anybody, but I used to try to."
The Shelby need for speed was finally serviced by the Army, which allowed him to put his hands on his second great love, airplanes. Admitted to a pilot-training program for students who didn't have college credentials, he graduated as staff sergeant pilot.
"Chuck Yeager, Bob Hoover, myself—a lot of guys came out of that program that were good aviators," Shelby said with pride. However, he was disappointed that, as he put it, "I never got a shot at gettin' shot at." He spent the whole war stateside, flying training missions for bombardiers and navigators.
With discharge came an end to flying, temporarily anyway. With a wife and children now, Shelby began a restless series of entrepreneurial ventures. At various times, he was an owner-operator of a trucking business, a roughneck in the oil fields and a chicken farmer.
Shelby came to auto racing relatively late, in 1952 when he was 29, but he came on strong. After first trying a Flathead-powered hot rod on a drag strip, later that summer he accompanied a buddy who owned an MG-TC to a sports-car race on an airport course at Norman, Okla.
"He was a friend of mine from high school, Ed Wilkins. He wasn't going to race it himself; he was just up there to spectate. After we got up there we decided that I'd drive it. So it was really just kind of a lucky accident that I drove my first race.
"I raced against the other MGs and the Jowett Jupiters and so forth and won that race. Then they had the Jaguar race and I raced the MG in that and I won again. I wore the tires out on it. It was fun."
Two more road races later in the year brought him two more wins, a four-for-four record that was only a taste of things to come. In 1953, in hotter iron such as Jaguars and Allards, the Texas meteor won nine out of nine. For the 1954 season he turned pro, which was a distinction of major importance to the SCCA in those days. He was in great demand by wealthy Ferrari and Maserati owners such as Temple Buell, John Edgar and Tony Parravano, and the American eventually attracted the interest of John Wyer, manager of the Aston Martin factory team.
To Shelby, racing appeared to be mainly a lark, informal and lighthearted. Arriving late at a track one day, he jumped into the cockpit without changing out of his work clothes—a set of striped farmer's overalls. They became his trademark. After a race, the tall, skinny, curly-haired chicken farmer would disappear just as suddenly, likely as not with a pretty woman on each arm.
But at work in the cockpit, Shelby was all business.
Read more: Autoweek Magazine
The new Carrera Ford GT slot car in  1/24 scale is a beautiful rendition of the 1966 Le Mans 24-Hour winning car, entered by Shelby Racing Enterprises on behalf of the Ford Motor Company. 

But did that car really win that famous race?
Since 1966 and the well-known "photo-op" finish with the three Ford MK2 prototypes crossing the line yards apart the controversy of a conspiracy by the French organizers to deprive Ford of an all-American finish has raged in America. So what really happened that gave the victory to the # 2 car, driven by Bruce McLaren and Chris Amon, both "kiwis", New Zealanders?
Dan Gurney and Jerry Grant, driving the Shelby team #3 car, led from the beginning, utterly dominating the Ferraris and all the other Fords, until 2 hours from the end when without any warning and as they were cruising to a sure win, the engine simply packed up. Meanwhile, the opposition faded away, and after 23 hours, Ken Miles, driving the # 1 car, had nearly a full lap lead over the # 2 car and two more over the surviving Holman & Moody Ford MK2 driven by Dick Hutcherson.  Miles was cruising to the finish when during his last pit stop he received an order from Carroll Shelby, talking to him inside the car. The wording of this order was never revealed in public, but the reply was. Miles did not take this lightly and replied, in a loud voice, "So ends my contribution to this bloody motor race", as he knew perfectly well  what could happen if he complied with the order from the Ford "brass". Indeed Miles was one of the few in the Shelby crew who had taken the time to read the organizing Automobile Club de l'Ouest rules.
McLaren took over the # 2 car during its last pit stop, where he told Chris Amon, "Ford wants a photo finish". Amon replied, "Who is supposed to win?" to which McLaren replied, "I don't know, but I'm not going to lose".
The simple truth is that Ford, represented by Henry Ford II, simply did not grasp the consequences of their decision, implemented as an order to Shelby and in turn, to Ken Miles. Miles had won at Daytona and Sebring and would be the first ever to win all three events the same year, something that Ford surely would have used for advertising their racing success worldwide.
After the three cars crossed the finish line, Miles first, then McLaren about 15 yards behind with Hutcherson in tow, crew chief John Colllins, chief mechanic Charlie Agapiou, and several members of the # 1 crew began pushing the car towards the podium, only to be stopped by ACO officials and told that they were in fact in second place.
What had taken place is that Ferrari's Mauro Forghieri, in a revengeful and spiteful move possibly engineered by a telephone call from Maranello, had lodged an unofficial protest to the racing direction, pointing out that while the Miles-Hulme car had indeed crossed the finish line 15 yards ahead of the McLaren-Amon identical car, it had started the race 40 yards behind it so had covered a shorter distance, and did not win. The chauvinist French officials, who would have preferred the red cars to win, seized the suggestion and immediately demoted the true winner of the race to second place, creating controversy and bitterness, likely in an attempt to ruin the Ford celebrations of the stomping Ferrari suffered.  Three years earlier, Ford attempted to buy Ferrari as a concern, racing team et all, and as the Commendatore nearly signed the paperwork, he had second thoughts and backed from the agreed deal. Ford then swore to beat Ferrari on the track, and indeed in 1966, they did just that, all the works and works-supported Ferraris having broken down hours earlier in an attempt to keep up with the faster armada of American cars.
Over the years, the many testimonies, accusations, innuendos and the like by English, French, Italian and German language period press really never resolved the issue to anyone's satisfaction, but the simple truth is that Henry Ford II made a mistake, that of ignorance, and missed a great chance of more publicity for his own personal triumph and revenge over Enzo Ferrari.
Carroll Shelby passed away a short time ago, taking with him many unpublished secrets, but not so secret to his close friends.