Recent Arrivals From Carrera
This week we feature lots of new arrivals from Carrera, 1/24 & 1/32 Scale, and digital 132 cars. You can also check our some of our pics from the classic (full Scale) rally at Watkins Glen.
Carrera 23748 Corvette Grand Sport Sebring 64 1/24 scale – $71.69
Carrera 27332 Dodge Charger Daytona , #22, 1971 – $39.99
Carrera 30528 Dodge Charger Daytona , #22, 1971, Digital 132 – $47.49
Carrera 27333 41 Willys, silver. – $39.99
Carrera 27334 32 Ford coupe, red – $39.99
Carrera 27335 Ferrari 599 XX Launch Version 2009 – $39.99
Carrera 30532 Ferrari 599 XX Launch, 2009, D132 – $51.69
Carrera 27336 Ferrari 599XX – $39.99
Carrera 30533 Ferrari 599XX, D132 – $51.69
Carrera 30514 Audi R8 Team Abt Sportsline Digital 132 – $51.69
Carrera 30522 Porsche 917-30 CAM2, Digital 132 – $51.69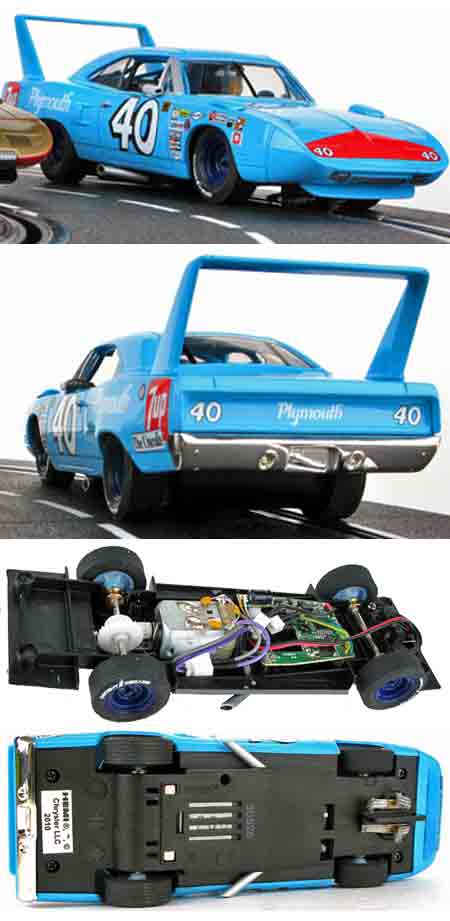 Carrera 30526 Plymouth Superbird #40, Digital 132 – $47.49
One of our Electric Dream Team members spent last weekend at Watkins Glen photographing vintage race cars at one of the largest historic race events in the US.  We've posted some of his photos in our blog for you to enjoy.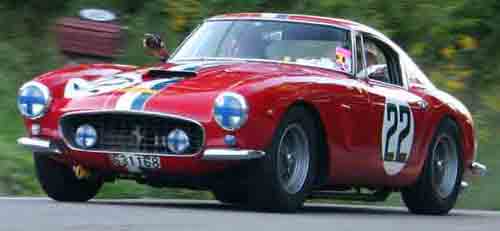 To see his photos from the Friday evening tour of the original Watkins Glen race course click here.
Thanks for shopping with us!
The Electric Dream Team
Warehouse phone (310) 676-7600
Slot car technical information and advice: support@electricdreams.com
Our warehouse is open to walk-in customers Monday through Friday 9 am to 4 pm.  Next time you're in the greater Los Angeles area stop by and see us at:
606 Hawaii Street, Unit B
El Segundo, CA 90245
We're just minutes from LAX.
Slot It announces 2010 product line: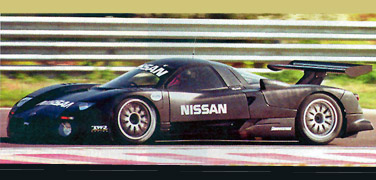 Slot It SICA05F Nissan R390 GT1, #22, test, 1997. Preorder now! – $54.99
Slot It SICA06E Sauber C9, Michelin. Preorder now! – $54.99
Slot It SICA12C Audi R8C #10 Le Mans 1999. Preorder now – $54.99
Slot It SICA14D Nissan R390 GT1 #33, LeMans 1998. Preorder now! – $54.99
Slot It SICA19A Toyota 88C #98, Daytona 1989. Preorder now! – $54.99
Slot It SICW09 Ford GT40 1969 LeMans winner. Preorder now! – $59.99
Carrera CanAm car prototype shots:
These are pictures of preproduction  cars being shown at the Nurnburg Toy Fair.  According to published information there are lots of details to be cleaned up on these cars, so if anything doesn't look right to you in these shots it will probably be fixed before production begins.
There will be 2 versions of the Porsche 917-30.  On the left is the CAM2 liveried car that set closed-circuit speed records at Daytona and on the right, Mark Donohue's 1973 CanAm championship car.  The interesting thing here is that there are only these two liveries and a solid-yellow vintage racing car that ever turned a wheel on a race track.  Manufacturers typically need about 6 liveries to amortize development and tooling costs, so lets hope both of these are huge sellers and that Carrera actually makes enough of each to satisfy demand.  The Sunoco car will be available in both conventional and Digital 132, while the CAM2 car will only be available as a D132.

Another shot of the 917-30.  They look to have got the shape and markings right.  A member of the Electric Dream Team once painted a 1/8 scale R/C body in this livery.  He says once was enough.
There will also be two McLaren M20s to race with the Porsches. Left. the 1972 works livery and on the right the Carling Black Label car driven by David Hobbs in 1973.
These two look good for shape and markings, too.
They look good from the rear, too.  One of our Dream Team members was a corner worker and had an up-close spot from which to watch them race back in the day.  They were truly awesome in a way that today's race cars, for all their technology, just can't equal.  And if you've only ever seen them in vintage races, you have no idea how fearsome they really were when raced in earnest.
These cars are now available for preorder.
Carrera 27327 Porsche 917-30 Sunoco. Preorder now! – $39.99
Carrera 27328 McLaren M20, Denis Hulme, 1972. Preorder now! – $39.99
Carrera 30521 Porsche 917-30 Sunoco, D132. Preorder now! – $51.69
Carrera 30522 Porsche 917-30 CAM2, D132. Preorder now! – $51.69
Carrera 30523 McLaren M20, D. Hulme, 1972, D132. Preorder now! – $51.69
Carrera 30524 McLaren M20, D. Hobbs, 1973, D132. Preorder now! – $51.69
Also announced by Carrera…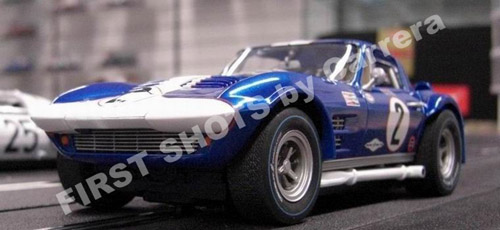 This is the 1/24 scale Grand Sport a lot of people have been waiting for.
Carrera 23748 Corvette Grand Sport, Mecom Racing Team, Sebring 1964 1/24. Preorder now – $71.69
Along with the Grand Sport there will also be a 1/24 scale model of the Ford MkII driven by Gurney and Grant at Sebring in 1966.  This is the same car Scalextric has announced in 1/32 scale.
Carrera 23746 Ford GT40 MkII, Sebring 1966, 1/24. Preorder now! – $71.69
Coming from LeMans Miniatures:
LeMans Miniatures 132030M Matra MS670B 1972 LeMans winner . Preorder now! – $129.99
Update on SCX Barracudas
We have sold through our first shipment of the #42 and #48 Barracuda TransAm cars, but we have large additional shipments coming so we are continuing to take orders for these cars.  No definite word yet on exact arrival dates but we expect to have more soon.
Thanks for shopping with us!
The Electric Dream Team
Warehouse phone (310) 676-7600
Fly Ferrari GTO Roadster Final Report
It's finished! It really is!
We would love to see this in 1:1 scale diving through the Corkscrew at Laguna Seca or powering up the hill toward start-finish at Road America. We can just imagine the Ferrari V12 wail amid all the rumbling Ford and Chevy V8s. We could imagine it at the Pebble Beach Concours with pride of place as the rarest and most desirable Ferrari of all time. That's one of the truly cool things about the slot car hobby — you can build and race cars that never existed but should have.  We had so much fun creating this "phantom" car that we have even written a unique history for it. It isn't true but it could have been. First, however, a recap of the project. We built this car to the Slot Car Challenge 1 rules, starting with a Fly E1801 250 GTO as specified. Here's a list of the performance mods we did to it:
Fly B243 and B244 front and rear wheels and front tires. $13.98 for both. We retained the stock rear axle, bushings, and crown gear.

Indy Grips IG1308 tires on the rear.  $4.50.

Slot It SICH07 guide.  $5.99.  This guide, made for wood tracks, is actually too big for Scalextric track, but using it allowed us to trim the blade down to take maximum advantage of the Scalextric Sport slot's full width and depth.

Scalextric W8475-2 traction magnet. $5.19.  As installed, the Scalextric magnet only delivers 264 grams of downforce vs. 352 for a stock Fly GTO with the original magnet.  The difference in downforce is due to the Scalextric magnet sitting higher in the chassis than the stock one. The advantage of the Scalextric magnet is that it provides downforce over more of the car's width, making it more drivable.  The Scalextric magnet certainly could be moved lower to deliver comparable downforce, but it would require some carving on the chassis which we simply ran out of time to do.  Also, with the Scalextric magnet where it is the car is legal and very competitive for a local race series we can run it in, so we just decided to leave it as is.

Scale Auto SC006 motor. $14.79. We retained the GTO's stock lead wires and drive shaft assembly.
Those parts, along with the $39.95 price of the car, bring the total cost to $84.40.  That wouldn't have won the BFB prize, but the the car is great fun to drive. On our test track, with the same layout, power, and controllers as used on the official layout for Challenge 1, we got a 60 lap run out of the car and decided that was enough.  There is more development potential, especially if we lower the magnet, but it's time to move on to other projects. Appearance-wise, the main thing we did, of course, was the coupe-to-roadster conversion.  This has been the most satisfying part of the project.  We are really pleased with the way it turned out and we think we have come very close to what a full-size GTO roadster would have looked like if Ferrari had ever built one.  But there's much more to the car's looks than just that.  We lowered the front of the body over the chassis to get the fenders snugged down over the smaller-diameter front wheels. On the stock GTO the body sits too high even for the original wheels and tires so as you can imagine the lowering we did was pretty radical.  As a result, we had to convert the interior tray extensively.  There was still room for a full-depth interior and driver figure but we would have had to rebuild the whole drive shaft tunnel, so to save time and keep things simple we just made the interior tub half-depth.  It really isn't that noticeable on the finished car. Other appearance mods include:
Driver's head replaced with a more period-correct one.

Roll bar structure fabricated from wire-filled plastic tubing.

Stock windshield cut down to a low windscreen.

Fire bottle from a Scalextric Corvette.

Shift lever and rear-view mirror from the junk box.

Decals from assorted sources, including some from all the way back to the 60s.
We painted the car with Tamiya X7 red acrylic and Testor Glosscote, wet-sanding with 600-grit sandpaper between coats.  We think the Tamiya red is just about the perfect shade for a Ferrari.  You can see how it compares with the color of a stock Fly GTO in the nose-to-nose photo below. Also, check out how much lower the front end of our roadster sits. We mentioned above that we wrote a history for the car.  Here it is, along with more photos.  We hope you enjoy reading it and looking at the photos.  We certainly enjoyed all the building, testing, photography, and writing that has gone into the entire project.
The Back Story
(Every good phantom model has one)
We all know the Ferrari factory never built a GTO roadster. When the GTO first appeared its critics, and they were many, called it a "Testa Rossa with a roof". It was not, they said, a true GT car within the spirit of the rules, even if it did barely comply with the letter of them.  A GTO roadster would have lent too much credibility to that criticism.
That doesn't mean that the Commendatore wouldn't have liked to see one built, and thereby hangs a tale.
Toward the end of GTO production a few of them left the factory with 4-liter engines in place of the usual 3-liter unit, making them 330GTOs.  In 1965, after the GTO's competition heyday was over, the factory had several tired examples, including a 330, gathering dust in the back of the competition department.  Remember that in those days old race cars were just that – old race cars.  The vintage racing movement was still far in the future.
In the Fall of 1965 Samantha Hill, whose company, Sam Hill Realty, had made her a fortune in the California real estate market, toured the Ferrari factory.  Ms. Hill was an enthusiastic, if only modestly talented, amateur sports car driver who had been racing an Austin-Healey in Cal Club races and had visions of competing in the upper production classes.  Somebody at Ferrari saw her coming and convinced her that one of the castoff GTOs, specifically the 330, would be the perfect vehicle for her introduction to the faster classes.   She wrote out a check on the spot.
In early December her racing shop, housed in a nondescript building on Sepulveda Boulevard, took delivery of the refurbished 330GTO.  She immediately filed an entry for an upcoming SCCA Regional at an airport course in Arizona.
Her first unpleasant surprise came when the SCCA officials classified Samantha and her GTO into the modified class instead of one of the production classes. Instead of racing with Corvettes and Cobras as she expected she found herself on the track with Lola T70s, McLarens, and other mid-V8-engined rocketships.  The next came in the first practice session.  The factory rebuild apparently did not include much of anything in the way of proper suspension setup.  Samantha headed for the pits after only three laps, wide-eyed with fright at the car's diabolical handling and big-engined modified cars blasting by her at enormous speed differentials.
Samantha's mechanic, Stanley Spanner, spent the whole weekend trying to find the problem without success.  Then, in Sunday afternoon's race the GTO snapped into a lurid slide beyond Samantha's ability to get out of and ended up upside down in the weeds.  The factory roll bar was little more use than the aluminum top itself, and Samantha emerged from the wreck with a concussion and a newfound appreciation for life that prompted her to end her driving career right then and there.  She was still a sports car enthusiast, though, and soon moved on to Group 7 cars, hired drivers, and the USRRC.  The GTO, its top utterly flattened but otherwise only lightly damaged, sat ignored under a tarp in the back of the building.  Then one day in March of 1966 Bonham Neville walked into the Sam Hill Racing shop.
Bon, as he was known, was a natural-born automotive genius.  He spent his high school years and several thereafter building an increasingly wild assortment of coupes, roadsters, rail dragsters, and other creations that defied classification and racing them on California's drag strips and dry lakes.  By 1959, at age 22, he was already something of a hot rodding legend and had a thriving car-building business.  That year a customer wanted to convert his Corvette from a drag racer to an SCCA road racer and invited Bon to a race at Riverside to check out the sports car scene.  One look at sports cars and Bon was hooked.  He jumped in with both feet and soon was racing a Corvette against Dick Guldstrand, Bob Bondurant, Andy Porterfield, Skip Hudson, Tony Settember, Dave McDonald, and Paul Rinehart, among many others who populated the huge big-bore production car grids of the era.  Bon won frequently and his business prospered greatly.
By the mid-60s production car racing had changed radically with ever-larger engines being stuffed into the cars.  Neville, gradually turning into an advocate of light, nimble cars, was becoming profoundly dissatisfied with his big-block Corvette.  Some say he was the one who coined the term "plastic pachyderm" to describe what he considered the  Corvette's brute-force approach to battling the Cobras.  He had even less liking for the 427 Cobra, which he had driven and freely denounced as handling like a pig, much to Carroll Shelby's displeasure.  He was looking for an outside-the-box alternative when he visited Samantha Hill's shop that day to drop by some parts he had fabricated for her new Lola.
"What's that?" he asked when he saw the canvas-shrouded shape in a dusty corner.
"Oh, that." Spanner answered, "That's Samantha's old Ferrari."
"Mind if I look?" Bon asked.
Bon Neville spent the rest of the afternoon minutely examining the damaged GTO and asking questions.  It didn't take him long to spot the reason for the car's terrible handling.  Both the Ferrari factory mechanics and Spanner had failed to spot a frame tube in a critical but easy to miss location that had completely broken at one end, allowing the rear suspension to do bizarrely unpredictable things. He also noted that with the exception of the crushed top the body would be easy for his fabricators to repair.  Wheels began to turn in his head.  He said nothing about the broken tube.  When Samantha came into the shop he pointed to the GTO and said, "How much?"  Samantha, thoroughly disgusted with the car ever since that race weekend in Arizona, named a figure.  Bon couldn't believe his ears.
Bon was, among many things, an avid reader of rulebooks. Two he had studied thoroughly were the SCCA General Competition Rules and Production Car Specifications and the FIA GT Class Rules.  At the time they were still at least tenuously connected.  The GTO was homologated with the FIA as a variant of a Ferrari production road car.  That allowed it into FIA GT racing even though nowhere near enough GTOs had been built to satisfy the minimum production requirement.  Those same Ferrari road cars were recognized by the SCCA for production car racing.  Some were even being raced. They were almost, but not quite, fast enough to stay with the Corvettes and Cobras.  The GTO, Bon realized, was a big step up in performance.  If he could get it ruled legal for production class racing and develop it to the limit of the SCCA rules the possibilities were truly delicious.
Bon spent several weeks writing and rewriting a formal petition to the SCCA Competition Board.  When he had it honed to perfection he sent it off.  The petition, surprisingly, generated little debate among the Comp Board members, who did not see in the nearly obsolete GTO quite the same potential Bon did but did see the possible advantages of bringing Ferraris into the production class wars as something a bit more than spear carriers.  They sent Bon a letter informing him that his petition was approved.  He had his outside-the-box alternative.
Bon called Samantha, accepting her offer on the GTO.  The next day he had the car in his shop, a few miles down Sepulveda from Samantha's.  He totally disassembled it and began putting it back together his way.  The engine went to Traco Engineering to have that firm's legendary magic worked on it.  The frame was not only repaired but lightened wherever possible and stiffened and reinforced as needed.  The chassis rebuild included a very stout and liberally braced roll bar that not only exceeded SCCA specs but also increased chassis stiffness by a very respectable percentage.  All the body damage got fixed except the flattened roof.
Bon had sent a letter to the factory describing his plans for the GTO and inquiring about the availability of spare body parts, in particular a new roof.  Weeks went by with no reply while the rest of the project forged ahead.  Then one day a large, thick envelope with a Maranello return address arrived.  Inside was a letter.
"Dear Mr. Neville," it began, "I regret to inform you that the GTO body parts about which you inquired are no longer available.  However, I heartily approve of your project and want to help you.  I believe you will find the enclosed documents useful in pursuing your goal.  I wish you every success in defeating the Cobras. Please be assured of my continuing interest and warmest regards."
It was personally signed by Enzo Ferrari.
The "documents" accompanying the letter turned out to be a set of beautifully rendered engineering drawings, specifications, and manufacturing instructions for a complete GTO roadster rear clip, dated 1962. They also included a copy of a letter from the FIA confirming that the projected though unbuilt roadster was covered under the GTO's FIA homologation.

When Bon hauled the completed car to Willow Springs for its first test it was 300 pounds lighter, 50 percent stiffer, and had 30 percent more power plus a torque curve much better suited to the shorter, tighter American race circuits where it would be competing.  The roadster body, with the low Plexiglas windshield Bon made for it, reduced drag substantially and made the rear "duck tail" spoiler more effective.  The chassis sat much lower to the track on American Racing Equipment 5-spoke magnesium wheels fitted with the widest, lowest-profile Goodyear tires the rules would allow.   The first day it ran below the A-production lap record and revealed only a few small problems to correct.
Two weeks later Bon entered a National at Riverside.  Even with more power and better aerodynamics he was losing ground on the long back straight to the big-block cars but he still beat all but two of them.  The following weekend he towed north to Laguna Seca, where the car was in its element.  Bon pulled out to a 20-second lead over a 40-car field and then cruised to the victory.  The rest of the season went the same way.  Wherever the Corvettes and Cobras had enough of a straightaway to use all their Detroit horsepower the GTO was at best a top-five car.  Everywhere else it killed them.
The American Road Race of Champions, or ARRC for short, posed a problem, however.  At the time the event alternated between Riverside and Daytona, both of them horsepower tracks.  In 1966 at Riverside Bon qualified sixth and finished fourth.  In 1967 at Daytona he qualified only eleventh and finished seventh.  On the infield portion of the course he could easily pass any car in the field but as soon as he reached the flat-out oval section the bigblocks blew right by him.
B
on had also discovered another problem.  The Corvettes, with their fiberglass bodies, were a lot better at handling body contact than the Ferrari was, especially those with the bumper brackets left in place, reinforcing both ends of the car.  As long as Bon could get clear of the field and away into the lead he was fine, but back in the pack it could be brutal, especially since some of the Corvette drivers were not squeamish about using their weight and durability to maximum advantage.  On the first lap at the 1968 ARRC he was hit from behind and then from the side.  The other cars, both Corvettes, continued on but the Ferrari needed major repairs.
In 1969 Bon went TransAm racing with a Camaro and had no time to race the Ferrari.  Over the course of the year his shop rebuilt it with further upgrades and detail modifications, including the Minilite wheels it wears to this day, but the car saw no action.  At the end of the season Bon decided he didn't like all the travel required to compete in a pro series.  He decided to go back to SCCA National racing and just run on the West Coast.  When the SCCA announced that it would hold the 1970 ARRC at Road Atlanta, where Bon thought the GTO had a real chance to win, he had an idea.  He decided to try to qualify for an ARRC invitation in both A-production and A-sedan, even though the two classes always ran in the same race group everywhere but the ARRC.
He carefully studied the 1970 schedule, calculating where the GTO would be most competitive in its class and where he stood the best chance of a good points day in A-sedan with the Camaro.  He entered and qualified both cars in each race.  That paid off on a couple of occasions when the car he intended to race that weekend broke in practice or qualifying and he was able to drive the other one and add to its point total.   At the end of the season he had his two ARRC invitations.
At Atlanta Bon set the fastest A-production times right from the beginning of practice, much to the chagrin of the assembled Corvette racers.  The Gulf Oil Company, seeing the possibility of an epic upset, signed on as Bon's sponsor for the weekend.
Knowing the Ferrari's susceptibility to body contact the Corvette contingent began playing head games with Bon.  One of the Corvette drivers known for his aggressive driving appeared at the track in a t-shirt with "Designated Hitter" printed on the front and back.  Throughout the days leading up to the A-production race Bon kept hearing subtle comments intended to unnerve him, but he simply wasn't having any of it.  He sent shock waves through the paddock when he qualified the GTO on the A-production pole, setting a new class lap record.  He knew the start would decide everything.  He and his crew spent hours trying to determine what speed, gear, and RPM would give him the best jump at the start.
In the A-sedan race he finished second in the Camaro after a race-long battle in which he swapped the lead several times with the eventual winner.  He went straight from the A-sedan podium to the A-production grid, determined to make a perfect start.  He led the field to the green at exactly the speed and RPM he had decided on.  At the drop of the flag he nailed the throttle.  He got a huge break when the other front-row driver, in a Corvette, got wheelspin and fell back.  Bon led into turn one and just kept extending his lead.
But on the last lap, with 15 seconds on the field, he felt something go terribly wrong at the back of the car, nearly causing him to crash.  The GTO was suddenly almost undrivable.  He nursed it around to the checkered flag, but half a dozen cars caught and passed him before he got there.  It turned out to be a broken part in the rear suspension.  It was one of the few rear suspension parts not replaced after the 1968 
crash.
That winter Bon bought a Formula 5000 car and took both it and the Camaro to the ARRC in 1971.  He went back to what became known as the Runoffs many times, but never again with the Ferrari, though he continued to race it and even win with it every once in a while, especially after the SCCA dropped it down to B-production.
Unlike most racers, Bon Neville has kept many of the race cars he ran back in the day, including the Ferrari.  He is still active and highly revered in vintage racing where he regularly exercises his favorite race car of them all, the world's only Ferrari GTO roadster.  He maintains it exactly as it looked on the day of its last B-production victory except for a set of big Gulf decals to commemorate his near-triumph at the 1970 ARRC.  He often receives multi-million-dollar offers for the car, but he always replies that it's not for sale at any price. And when he drives it he wears an old-style open-face helmet so everybody can see the big, wide grin on his face.