Coming soon from Carrera
Carrera 30601 Audi R8 LMS #39, 2011, D132. Preorder now! – $53.39
Carrera 30608 Ferrari 599XX, #4, D132. Preorder now! – $53.39
Carrera 30612 Mercedes SLS Horn MS, 2011 D132. Preorder now! – $53.39
Carrera 23769 Ford GT40 MkII, LeMans 1966, D124. Preorder now! – $75.49
Carrera 23772 Ferrari 599XX, white, D124. Preorder now! – $75.49
New items in stock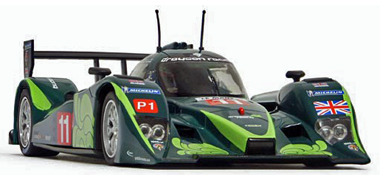 Slot It SICA22A Lola B09/60 LeMans 2010 – $64.99

Slot It SICA22Z2 Lola B09/60 plain white. – $54.99
Note:  This car is the version with the inline Boxer motor.  There will also be one with an anglewinder Flat 6 motor.  This will be SICA22Z1. It is expected to be available soon, but we have not received a firm release date.
Thanks for shopping with us!
The Electric Dream Team
Warehouse phone (310) 676-7600
Slot car technical information and advice: support@electricdreams.com
Our warehouse is open to walk-in customers Monday through Friday 9 am to 4 pm.  Next time you're in the greater Los Angeles area stop by and see us at:
606 Hawaii Street, Unit B
El Segundo, CA 90245
We're just minutes from LAX.
Happy Friday the 13th from Electric Dreams!
This is the first of three this year.  If you are exceptionally superstitious you may want to go into hibernation until 2013.  That's if you haven't already done so to avoid all the political craziness of a presidential election year.
New items in stock
BSR030R Mercedes 300SL, Paul O'Shea SCCA 1957 RTR – $234.99
BSR030P Mercedes 300SL roadster PAINTED BODY KIT – $99.99
BSR031P Ferrari 250GT Scaglietti PAINTED BODY KIT – $99.99
Ninco 20156 Autobahn Racers set – $339.99
Ninco 50594
Porsche 356, "Testirosa".  $79.99
Ninco 55045
Mustang FR500 "DHL" digital. $69.99
Ninco 55050
Mercedes SLS GT3 "Postbrief".  $54.99
Ninco 61602 XL2 motor (FK130) – $29.99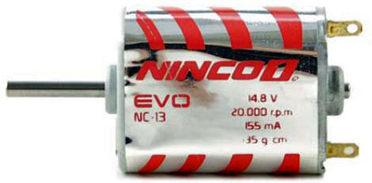 Ninco 80618 NC13 Evo motor FK130, 20,600 RPM – $26.99
Ninco 10118 Standard power base (new) for Ninco race sets – $32.99
Ninco 10315 35-ohm controller with RJ plug – $34.99
Note: Because Monday, January 16, is a holiday for US postal workers no shipments via US mail will go out that day.  United Parcel Service, however, is working so UPS packages will go out as usual.  The warehouse will be open for walk-in customers.
Thanks for shopping with us!
The Electric Dream Team
Warehouse phone (310) 676-7600
Slot car technical information and advice: support@electricdreams.com
Our warehouse is open to walk-in customers Monday through Friday 9 am to 4 pm.  Next time you're in the greater Los Angeles area stop by and see us at:
606 Hawaii Street, Unit B
El Segundo, CA 90245
We're just minutes from LAX.
Pioneer Camaro shots
These images recently appeared on Pioneer's Facebook site.
Note that the metallic red car is a road car with rally wheels and the SS grille with hidden headlights.  A production model of such a car has not yet been announced, but these images can be taken as a sign that one is in the works.
Just announced by Proto Slot
Proto Slot CB064 Chaparral 1 RTR car, Jim Hall, 1962. Preorder now! – $249.99
Proto Slot CB064P Chaparral 1 painted body kit. Preorder now! – $99.49
New Items in stock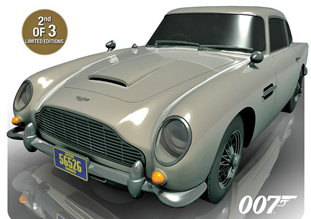 Scalextric C3162A Aston Martin DB5 Casino Royale – $69.99
Scalextric C3179 Audi R8 GT3 – $42.99
TKP27 Maserati Tipo 52, LeMans 1964, painted body kit – $87.99
MMK SF12A Delahaye 1938 LeMans winner, RTR – $295.99
MMK SF12B Delahaye 1938 LeMans winner w/ engine detail, RTR – $342.99.
MMK continues to work its way through the early LeMans winners in its series of handmade resin-cast collectors' models.
Proto Slot CB062P Aston Martin DBR1, LeMans 58, painted body kit – $96.99
Proto Slot CB063-1P Ferrari 275GTB4, LeMans 66, painted body kit – $96.99
Proto Slot GM020-1P Alpine Renault A106 Tour de France, white – $87.99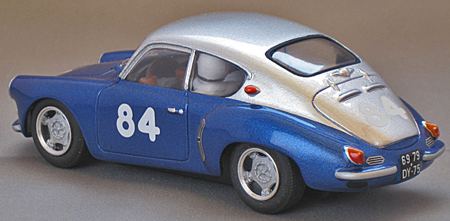 Proto Slot GM020-2P Alpine Renault A106, Mille Miglia 1956 – $87.99
Scalextric C1248T Total Endurance race set – $179.99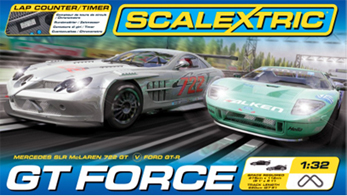 Scalextric C1274T GT Force race set – $229.99
Just in the door from Carrera
Carrera 23760 Cheetah, blue, Digital 124 – $75.49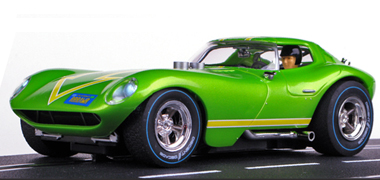 Carrera 23761 Cheetah, green, Digital 124 – $75.49
Carrera 23763 Aston Martin DBR9, Jet Alliance, D124 – $75.49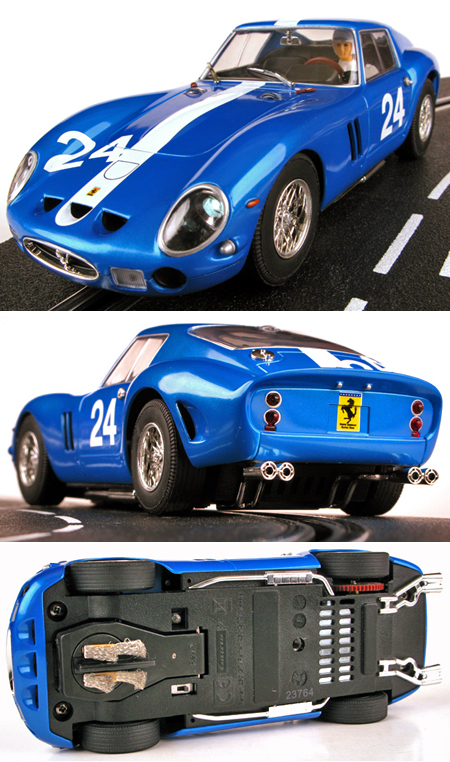 Carrera 23764 Ferrari 250 GTO, blue, D124 – $75.49
Carrera 27371 Ferrari 512BB/LM NART – $34.99
Carrera 30576 Ferrari 512BB/LM NART, D132 – $53.39
Carrera 27380 McLaren M20, Interserie – $34.99
Carrera 30587 McLaren M20, Interserie, D132 – $53.39
Carrera 30558 Mercedes streamliner, Digital 132 – $49.99
Carrera 30557 Auto Union, Digital 132 – $49.99
Carrera 30567 Mercedes-Benz McLaren GT SLR, D132 – $53.39
Carrera 30577 Ferrari 512BB/LM, D132 – $53.39
Carrera 30581 Corvette C6R GT2, D132 – $53.39
Thanks for shopping with us!
The Electric Dream Team
Warehouse phone (310) 676-7600
Slot car technical information and advice: support@electricdreams.com
Our warehouse is open to walk-in customers Monday through Friday 9 am to 4 pm.  Next time you're in the greater Los Angeles area stop by and see us at:
606 Hawaii Street, Unit B
El Segundo, CA 90245
We're just minutes from LAX.
Did a wallpaper pattern in a Paris hotel room inspire the famous Chevrolet Bowtie emblem? Does the blue and white BMW roundel really symbolize a propeller and sky? And was the Porsche logo first sketched on a napkin in a New York City restaurant? In the world of automobile logos, truth can be stranger than fiction—though a good story can go a long way toward embellishing a brand's corporate identity.
This story doesn't have much to do with Slot Cars – rather our fascination with cars themselves and the origins of some of the iconic logos that brand many of our slot cars. Enjoy the read!
From Ferrari's Prancing Horse to Cadillac's crest, automobile logos appear on everything from steering wheel hubs to giant billboards, and even the lapel pins on the suits of company executives. This kind of flexibility is one of the design elements needed for an effective and strong logo, says Jack Gernsheimer, Creative Director of Partners Design Inc. and author of Designing Logos: The Process of Creating Symbols that Endure.
With over 40 years of advertising experience and more than 500 logos to his credit, Mr. Gernsheimer believes it's essential to look long-term and to keep things simple when designing a logo. "Not getting too trendy with the type or color" is vital, he says. "When you design a logo, ideally it should endure for decades." For many automakers, the roots of their logos stretch back over a century and contain enough symbolism and intrigue to fill a Dan Brown novel.
Automotive Pioneers
Tragedy plays a role in a popular myth surrounding the famous intertwined double-R logo of British luxury automaker Rolls-Royce. The company's founders, Sir Henry Royce and Charles Stewart Rolls, originally used red lettering for the emblem that combined the first initial of their last names. Legend has it the color was changed, from red to black, in a mark of respect after the death of Sir Henry Royce in 1933. In reality, black lettering was simply considered more becoming of a prestigious luxury car. The timing of the color change was pure chance.
Rolls Royce's second iconic emblem, the Spirit of Ecstasy hood ornament, is linked to a similarly tragic (but in this case, entirely true) tale. Designed by Charles Sykes in 1911, the model for the emblem was Miss Eleanor Thornton, the personal secretary of John Scott Montagu, the 2nd Baron Montagu of Beaulieu and friend of company co-founder Charles Stewart Rolls. In 1915, Miss Thornton died at sea while traveling to India. Yet for almost 100 years her likeness has graced every Spirit of Ecstasy.
The origins of some automotive logos begin even before the dawn of the automobile. The Mercedes-Benz three-pointed star is commonly known to symbolize the use of the company's engines on land, sea and air. But the star first appeared on a personal note written in 1872 from company founder, Gottlieb Daimler, to his wife. Mr. Daimler used a three-pointed star to mark the location of his family's new home in the town of Deutz, Germany. His sons adapted the emblem as the Mercedes-Benz logo from 1910 onward.
One of the best known emblems of all time, Ferrari's Prancing Horse first appeared on warplanes flown by Francesco Baracca, an aviator and hero of World War I. In 1923, Enzo Ferrari met Francesco's parents after a race, where they suggested Ferrari use their son's prancing horse badge on his race cars—both for good luck, and as an homage to Francesco, who died before the war ended. A yellow background was added (it's the official color of Enzo Ferrari's hometown of Modena, Italy) and the horse's tail was redesigned to point upward.
In the case of BMW, myth (and savvy marketing) has fooled generations into linking the company's logo with an aviation theme. "A German advertising agency in the 1920s produced an ad that showed the [BMW] roundel against the spinning propeller of an airplane to reflect the company's origins as an aircraft engine manufacturer," says Dave Buchko, company spokesman for North America. "That, it seems now, turns out to be urban myth." While it's true that BMW manufactured airplane engines, the blue and white logo represented the colors of the Bavarian flag, not a stylized propeller and sky.
American Ingenuity
Had it not been for a talkative spouse, the Chevy Bowtie emblem could have claimed one the strangest design origins. Louis Chevrolet said the famous emblem was inspired by a wallpaper pattern in his hotel room during a visit to Paris in 1908. The story would have been considered fact, had it not been for Mr. Chevrolet's wife. She later said her husband had seen an advertisement featuring a similarly shaped logo in a Sunday supplement. Eye-catching design—and careful evolution—is a theme found in many American car company logos.
The Cadillac crest is the coat of arms of French military commander and explorer, Antoine de la Mothe Cadillac, who founded Detroit in 1701. Simplified and streamlined over the years, the basic style remains intact. "It's so distinctive, you don't want to give that away," says Anne Marie Webb, Design Manager for GM's Global Brand Identity. When updating one of GM's brand logos, Webb says she always considers elements "that made it recognizable and strong." Even then, cultural differences must be considered. The Buick Tri-Shield emblem is monochromatic in every country except China, where the logo maintains red, blue and grey coloring. "They felt [color] had a more premium feel," explains Webb.
Changing times can also bring big changes in a logo. For more than 80 years, Chrysler has used a wide range of badges featuring ribbon seals, or ribbon seals with wings. But in 1962, Chrysler Chairman Lynn Townsend wanted a more modern and less fussy corporate logo. According to Chrysler's archives, out of approximately 700 designs, Townsend selected the Pentastar. Many assumed the design symbolized the five divisions of the company (circa the early 1960s). It didn't; the design simply looked good.
Lawyers, Latin and Luck
Some car company logos owe their existence to legalities and economies of scale. In 1909, having left the company bearing his name, August Horch established a second automobile company in Zwickau, Germany. But with his name already in use, Horch had a serious problem. He couldn't legally name his new company after himself. However, when translated into Latin, "Horch"—which means "hark"—became the lawyer-friendly "Audi." The four interlinked Audi rings came about in 1932, when four struggling automakers joined together under the corporate banner of Auto Union. These companies included Audi, DKW, Wanderer and, ironically, the original Horch.
Volvo also has Latin roots. Meaning "I roll," the name was taken from a brand of ball bearings before it was applied to the Swedish automaker in 1924. The Volvo logo is the Roman symbol for iron—symbolizing a warrior's shield and spear. The diagonal streak across the grille was originally only a mounting point for the badge, but is now "almost as much a brand ID as our iron symbol," says Daniel Johnston, Product Communications Manager at Volvo Cars North America.
Good luck—and an easier to pronounce name—played a role in the creation of the Toyota nameplate in 1936. In the book Toyota: A History of the First 50 Years, company founder Kiichiro Toyoda "ran a contest for suggestions for a new Toyoda logo. There were over 20,000 entries. The winning entry consisted of katakana characters in a design that imparted a sense of speed… "Toyoda" became "Toyota" because as a design it was esthetically superior and because the number of strokes needed to write it was eight, which in Japan is a felicitous number, suggestive of increasing prosperity."
Statues, Stars, and Smart Cars
Inspiration for a name and logo can come from careful consumer research, legal loopholes or, in some cases, by looking at the surrounding environment. The Maserati brothers took inspiration for their company's trident logo from the statue of Neptune in the central square of Bologna, Italy, where Maserati was originally headquartered. The trident with Maserati script below was sketched by Mario, an artist, who also happened to be the only Maserati brother never actively involved in the design or engineering of cars.
Inspiration for the Subaru name literally came from the heavens—or more precisely, the Japanese name of a star cluster in the Taurus constellation. Six of the stars are visible to the naked eye and—in keeping with corporate identity—this matches the six companies which combined to form Fuji Heavy Industries, Subaru's parent company. The Hyundai name has an even simpler explanation. In Korean it means "modern," while the company's logo is a stylized "H" that also represents two people, the company and customer, shaking hands.
The Smart name seems to speak for itself, no translation needed. It actually happens to be an acronym of Swatch (the Swiss watch company that was a partner during the early stages of the company), Mercedes (the brand's current custodian), and "Art." The company's logo signifies compact, with a "C," and forward thinking with an arrow emblem.
Plot Twists
When it comes to the origin of an iconic logo, the same car company can sometimes have two variations of the same story. That holds true with Porsche, and the truth behind the German sports car manufacturer's eye-catching emblem. According to a spokesperson with Porsche Cars North America, an extremely influential automobile distributor, Max Hoffman, met with Ferry Porsche in a New York City restaurant in 1951. The discussion moved on to Hoffman's belief that Porsche needed a powerful logo, something distinctive and elegant. A rough sketch was made then and there, on a dinner napkin.
Yet the story from Porsche Germany differs from this colorful explanation. Max Hoffman did ask Ferry Porsche for a logo, but the emblem was designed by Porsche engineer Franz Xaver Reimspiess—and most definitely not sketched on a napkin somewhere in Manhattan. Does it matter who is right or wrong? Probably not.
A tall tale never hurts, especially when it involves two companies known for building some of the most exotic cars in the world. Car enthusiasts love to stoke the rivalry between Lamborghini and Ferrari, even down to the minutiae of the Lamborghini logo. The design of the gold and black emblem was led by company founder Ferruccio Lamborghini, and the bull located in the center stands for his astrological sign (Taurus). Legend has it that Mr. Lamborghini purposefully copied the Ferrari shield, then reversed that company's yellow and black color scheme to prod the ego of Enzo Ferrari.
With the key protagonists having passed away, there is probably no way to know for certain how much of this is true. "To our knowledge, this is just a rumor," said a spokesperson for Automobili Lamborghini S.p.A. "The only way to confirm would have been to ask Mr. Lamborghini himself."
Original Source: Road and Track Magazine
Written by: Nick Kurczewski