We like the looks of the Carrera 27134 Mustang, but it could use some help in the handling department.  Well, as it happens, we had a set of wheels and tires from a Scalextric Ferrari F430 lying around and noticed that the Mustang's body and chassis left room for wheels and tires a lot wider than the skinny ones it comes with.  Would the Scalextric Ferrari wheels and tires fit?  Sue enough, they did, and now our Mustang has about 50% more rubber on the road and much more aggressive-looking wheels in the bargain.  One of these days we'll have to paint over the little Ferrari logos in the wheel centers.
To make it stick even better we deleted the rather anemic stock magnets and replaced them with a pair of Fly B73 magnets glued to the bottom of the chassis and placed end-to-end to provide downforce over a much greater portion of the car's width.  The improvement in lap times on our Scalextric Sport test track is phenomenal.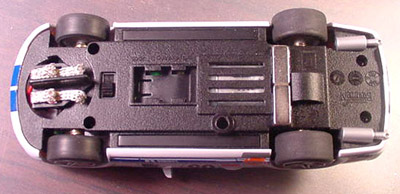 You can sand the tires for even greater grip.  If you are going to try these changes on a digital car you will want to use milder magnets or even retain the stock magnets so you don't pull enough current through your digital chip to fry it.