New Items In Stock:
The Pioneer cars are here!  We just received 4 new Mustangs plus a new shipment of the previously issued Bullitt car.  These cars are setting new standards of quality and performance.  They are the best out-of-the-box runners we have ever seen.
Pioneer P004 Mustang Fastback SCCA production car – $54.99
Pioneer P008 Mustang Fastback SCCA production car – $54.99
These two cars both carry "fantasy" liveries, which means they are not models of actual 1:1 scale cars.  However, the colors and markings on these cars are very well thought-out and care has been taken to make them period-appropriate.  Full-sized cars very much like these have competed in SCCA production class racing and in FIA endurance races.
Pioneer P006 67 Mustang, Kode Key – $54.99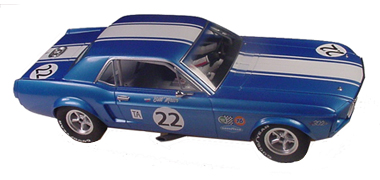 Pioneer P010 68 Mustang, Bill Maier – $54.99
These two "notchback" Mustangs are models of actual cars and are just the first of a series of cars with extensive TransAm and SCCA club racing history.  These cars are also still active in vintage racing, appearing at road courses across the country.  Each of the Pioneer models that carries a "real" livery comes with a collector's card providing information on the car's history and specifications.
Pioneer P001 Bullitt Mustang – $54.99. This one has been out for a while, but it's a model of an iconic movie car that starred in what id considered by many to be the first great cinematic car chase that set the standard and pattern for all to come.  This model is also a great runner and total fun to drive.  It is the first in a series of Pioneer movie car models.
All Pioneer cars come with a bag of spare parts including tires, an optional 7mm deep guide with braid, and commonly lost or broken detail parts that may include mirrors, windshield wipers, bumpers, or other parts, depending on the specific model.
Also just in:
Carrera 61165 Chevy COT, Kevin Harvick 1/43 scale – $14.99
Carrera 61166 Chevy COT, Jeff Burton, 1/43 scale – $14.99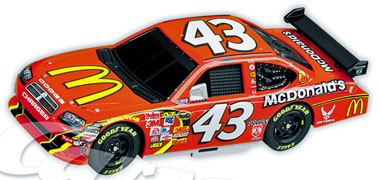 Carrera 61167 Dodge COT, Reed Sorenson, 1/43 scale – $14.99
Carrera 61168 Dodge COT, Kasey Kahne, 1/43 scale – $14.99
American Iron Track Test
by Arie Viewer and L. Owen Fast
It looks like 2010 is very much the Year of the American Car, with TransAm, SCCA, and CanAm cars, along with the usual crop of NASCARs, coming from several different manufacturers.  The classic TransAm category is rapidly heating up with new cars from SCX and Pioneer arriving to challenge Scalextric's Mustangs and Camaros.  The new arrivals raise the question:  Who makes the best-performing classic TA car?  There are reviews and web site postings on the subject popping up all over the Internet, but we decided to test the cars for ourselves and pass our findings on to you.
The two main subjects of our test are the two newcomers to the field, the SCX  1970 Barracuda and the Pioneer 1967/68 Mustang.  For comparison purposes we added a well-broken in Scalextric 1969 Camaro equipped with Indy Grips 1009 silicone tires but otherwise box-stock.  As usual, we conducted the test on our 58-foot Scalextric sport layout with a single stock power supply per lane and Parma 45-ohm controllers.  We use this particular combination because it most closely reflects what a large number of our customers are racing on.  We keep our track scrupulously clean because that is the only way to maintain uniform track conditions for our tests.  We know that some tires gain grip as the track surface "rubbers in" but there is no way to maintain a uniform standard for that so we just stick with a clean surface.  For that reason, depending on the state of your track your results may vary, but we believe our testing provides a useful guide to the relative capabilities of the cars tested.
We lubed all the cars, gave each one an untimed test run to check for proper operation, and followed it with adjustments and break-in as needed.  Both the Cuda and the Mustang broke in quickly and without drama, neither showing any problems such as binding, misalignment, or electrical issues.  With all cars ready to go we began the test. At each stage of testing we ran each car until we were satisfied that we had extracted from it all the available speed.
The Camaro registered 290 on our Magnet Marshal, right about average for Scalextric TA cars we have tested.  With the Indy Grips it returned best lap times of 5.161, 5.235, and 5.238 on our DS timing and scoring system. These are competitive times in TA racing on our track.  We considered this a good benchmark for testing the SCX and Pioneer cars.
We ran the Cuda first in out-of-the-box trim with unsanded stock tires and a Magnet Marshal reading of 242.  The result was best lap times of 6.885 sec., 6.899, and 6.999 as recorded in our DS system's memory.  We then sanded the stock SCX tires just enough to remove the tread pattern and turn the tires into slicks.  The sanding decreased the rear tire diameter enough to bump the MM reading up to 272 grams.  The lap times improved to 5.819, 5.975, and 6.125.
Next we swapped the stock tires for a set of Maxxtrac M9s. These are the tires made for the SCX NASCARs but they fit the Barracudas, too.  They are a little larger in diameter than the stock tires and took the MM reading back down to 245.  The lap times came in at 5.453, 5.475, and 5.686.
After the Maxxtracs we tried a set of Ortmann 28Ls.  These are the same tires Ortmann recommends for Scalextric TAs and they will also fit the Pioneer cars.  On the unsanded Ortmanns the Cuda showed an MM reading 290 (identical to the Scalextric Camaro's) and lap times of 5.587, 5.607, and 5.620.  We then sanded the Ortmanns, again just enough to take all the tread off.  The MM reading went to 298 and the lap times came down to 5.039, 5.050, and 5.062.
We got to wondering what the Maxxtracs would have done if their diameter were a bit smaller to get the MM reading up.  Maxxtracs are not sandable, but SCX cars have an adjustable magnet.  It's held into the bottom of the chassis with two screws, and you can increase the magnetic downforce to just about any figure you want simply by loosening them.  We reinstalled the Maxxtracs, backed out the screws a couple of turns, and saw a monstrous 448 on the Magnet Marshal.  That yielded a best lap time of 5.331 seconds, but the Cuda, slowest in a straight line to begin with, was bogged down to the point where it essentially didn't need to be driven and was losing on the straights what it gained in the corners.  We tightened the screws partway and got an MM reading of 330 and a lap time of 5.298.  That was better, but the motor was still straining to shove the car down the straight.  We tightened the screws a bit more and got 298 on the MM, the same as with the Ortmanns.  That produced an identical 5,298 lap, but the car seemed a lot livelier and faster on the straights.  So, the Cuda finished its testing with an overall best time of  5.039, which would be right in the competitive ballpark in a TA race on our track for cars with a 300-gram MM limit.
Then it was the Pioneer Mustang's turn.  In out-of-the-box trim, with an MM figure of 271, it recorded best lap times of  5.099, 5.138, and 5.224.  It was easily the quickest car in a straight line.  Then we sanded the stock tires.  The MM reading went to 279 and the lap times fell to 4.870, 4.970, and 4.984.  The car felt impressively quick and drivable, like a non-magnet car with very high limits.  At that point the Mustang was already comfortably fastest of the three, and time was pressing, so we concluded the test, perhaps to return to testing of the Pioneer car on alternate tires at a later date.
So, here are the fastest times for the three cars:
Scalextric 1969 Camaro:  5.161 sec. (box-stock with Indy Grips 1009s, MM reading of 290)
SCX 1970 Barracuda: 5.039 on sanded Ortmann 28L tires.  MM reading of 298, magnet in full up position)
Pioneer 1967/68 Mustang: 4.870 on sanded stock tires. MM reading of 279.
We will refrain from drawing conclusions here.  We'll let the figures speak for themselves and allow you to draw your own.  We will say, however, that anyone who wants to equalize these cars for racing on a home track should be able to do so without too much trouble by adjusting magnets and trying different tires.  These are all well-made cars that look good on the track together, and there are undoubtedly more different ones to come.  Pioneer, in fact, has already announced a 67/68 Camaro and its own 70 Barracuda for future release and we don't think it will be long before the rest of the classic TransAm cast is filled in by one manufacturer or another.  It looks like the category has a very interesting future.  And as we said above, your results may vary.
If you have questions or comments about this article we invite you to send enter them below.
Thanks for shopping with us!
The Electric Dream Team
Warehouse phone (310) 676-7600