Slot It announces 2010 product line:
Slot It SICA05F Nissan R390 GT1, #22, test, 1997. Preorder now! – $54.99
Slot It SICA06E Sauber C9, Michelin. Preorder now! – $54.99
Slot It SICA12C Audi R8C #10 Le Mans 1999. Preorder now – $54.99
Slot It SICA14D Nissan R390 GT1 #33, LeMans 1998. Preorder now! – $54.99
Slot It SICA19A Toyota 88C #98, Daytona 1989. Preorder now! – $54.99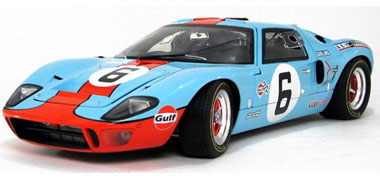 Slot It SICW09 Ford GT40 1969 LeMans winner. Preorder now! – $59.99
Carrera CanAm car prototype shots:
These are pictures of preproduction  cars being shown at the Nurnburg Toy Fair.  According to published information there are lots of details to be cleaned up on these cars, so if anything doesn't look right to you in these shots it will probably be fixed before production begins.
There will be 2 versions of the Porsche 917-30.  On the left is the CAM2 liveried car that set closed-circuit speed records at Daytona and on the right, Mark Donohue's 1973 CanAm championship car.  The interesting thing here is that there are only these two liveries and a solid-yellow vintage racing car that ever turned a wheel on a race track.  Manufacturers typically need about 6 liveries to amortize development and tooling costs, so lets hope both of these are huge sellers and that Carrera actually makes enough of each to satisfy demand.  The Sunoco car will be available in both conventional and Digital 132, while the CAM2 car will only be available as a D132.
Another shot of the 917-30.  They look to have got the shape and markings right.  A member of the Electric Dream Team once painted a 1/8 scale R/C body in this livery.  He says once was enough.
There will also be two McLaren M20s to race with the Porsches. Left. the 1972 works livery and on the right the Carling Black Label car driven by David Hobbs in 1973.
These two look good for shape and markings, too.
They look good from the rear, too.  One of our Dream Team members was a corner worker and had an up-close spot from which to watch them race back in the day.  They were truly awesome in a way that today's race cars, for all their technology, just can't equal.  And if you've only ever seen them in vintage races, you have no idea how fearsome they really were when raced in earnest.
These cars are now available for preorder.
Carrera 27327 Porsche 917-30 Sunoco. Preorder now! – $39.99
Carrera 27328 McLaren M20, Denis Hulme, 1972. Preorder now! – $39.99
Carrera 30521 Porsche 917-30 Sunoco, D132. Preorder now! – $51.69
Carrera 30522 Porsche 917-30 CAM2, D132. Preorder now! – $51.69
Carrera 30523 McLaren M20, D. Hulme, 1972, D132. Preorder now! – $51.69
Carrera 30524 McLaren M20, D. Hobbs, 1973, D132. Preorder now! – $51.69
Also announced by Carrera…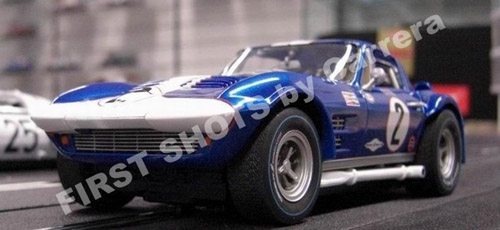 This is the 1/24 scale Grand Sport a lot of people have been waiting for.
Carrera 23748 Corvette Grand Sport, Mecom Racing Team, Sebring 1964 1/24. Preorder now – $71.69
Along with the Grand Sport there will also be a 1/24 scale model of the Ford MkII driven by Gurney and Grant at Sebring in 1966.  This is the same car Scalextric has announced in 1/32 scale.
Carrera 23746 Ford GT40 MkII, Sebring 1966, 1/24. Preorder now! – $71.69
Coming from LeMans Miniatures:
LeMans Miniatures 132030M Matra MS670B 1972 LeMans winner . Preorder now! – $129.99
Update on SCX Barracudas
We have sold through our first shipment of the #42 and #48 Barracuda TransAm cars, but we have large additional shipments coming so we are continuing to take orders for these cars.  No definite word yet on exact arrival dates but we expect to have more soon.
Thanks for shopping with us!
The Electric Dream Team
Warehouse phone (310) 676-7600