The Modeling and Photographic Art of Glenn Perry
Seeing the creativity of our customers is one of the more rewarding aspects of being on the Electric Dream Team.  The skills of our customers run the gamut from performance modifications, painting and decaling to scratchbuilding, kitbashing, and all manner of track building and detailing.  In addition, some of them are also accomplished photographers.  One such "Renaissance man" of slot car racing is Glenn Perry of Paxton, Massachusetts.  Glenn sent us a collection of his track and car photos and they are evidence of exceptional skill as both a slot car hobbyist and as a photographer.  Here are his photos for your enjoyment.
Glenn's track is a Scalextric Sport digital layout detailed with buildings, hundreds of colorfully painted figures, and natural terrain features, all artfully placed on a plain green table to create a remarkably lifelike effect.
Note how the figures and other scenic elements are placed to give the track a "populated" look suggesting all kinds of activity in progress.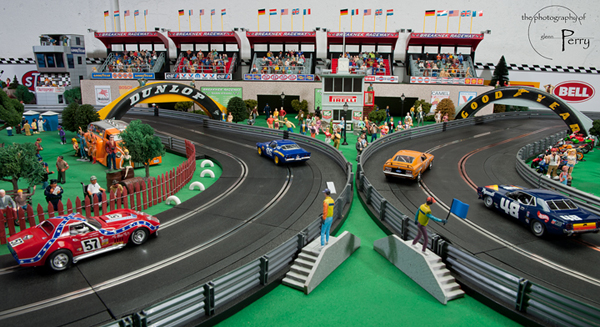 Another view of the track.  Note the scratchbuilt platforms for the flaggers and the spectators gathered along the fences.
Glenn has placed a row of Carrera grandstands atop a simple scratchbuilt structure to create an impressive building that provides a focal point for the layout.  Check out the motorcycles parked alongside the track.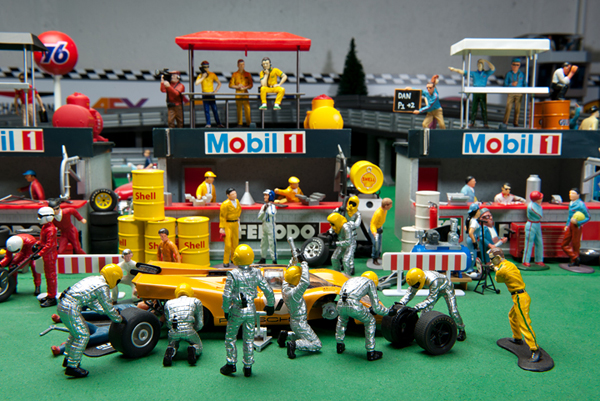 There's lots of purposeful activity going on in the pits.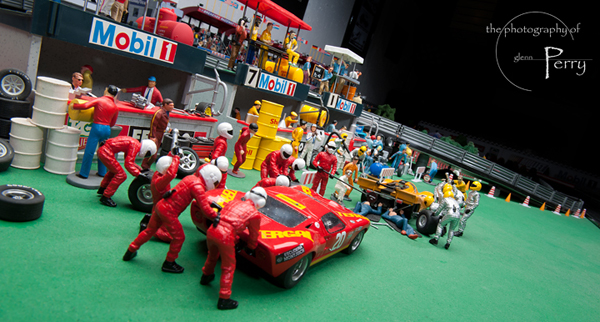 Another shot of pit lane activity.
Meanwhile, out on the track there's plenty of action.  This shot looks a lot like one you would have seen at LeMans in 1970.
The race goes on as darkness begins to fall.
The track also sees  lots of NASCAR action.  Both of these cars sport custom paint and decal schemes.
Here's a closeup of the Charger.
Check out this skillfully crunched Mustang with steam coming from the radiator.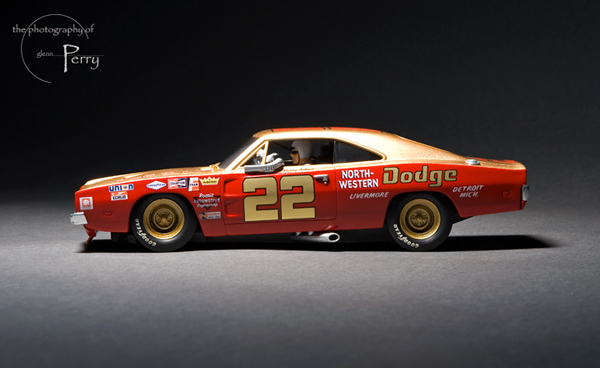 One of Glenn's NASCAR repaints, excellently modeled and photographed.
A true work of art.
A kitbash from a lowly Monogram 55 Chevy snap kit never looked so good.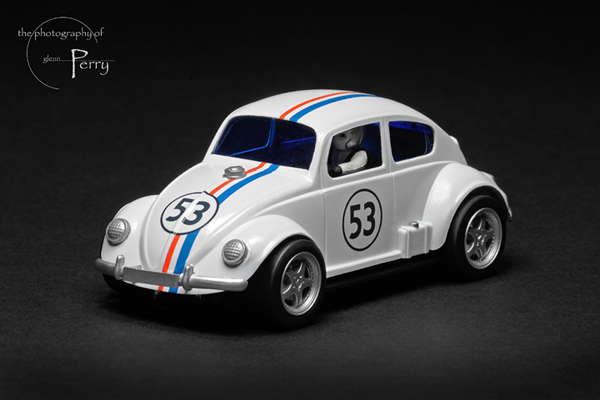 Or how about Herbie riding on Scalextric Porsche Boxster underpinnings?
How'd he do that?  And #41 is another custom repaint.
What is so outstanding about these photos, in addition to the quality of the photography, is the way in which Glenn Perry has created the impression of so much happening in such a lifelike manner on a simple green tabletop with no elaborate benchwork or permanent scenery.  This entire layout could easily be packed up, moved and set up again or changed for the sake of variety at any time.  They show that building a very attractive racing layout does not need to involve a lot of intricate construction.  The careful arrangement of simple elements goes a long way and provides endless scope for creativity.
Thanks, Glenn, for letting us show off your work to our friends and customers.
If you would like to see more of Glenn Perry's photographic art, you can visit his web site at  http://www.gperryimages.com/
Do you have a track layout or scratchbuilt, kitbashed, or custom-painted cars you would like to see featured in our newsletter or on our web site?  Send your photos and descriptions to support@electricdreams.com