We are excited to announce a new sponsor here at Electric Dreams – Inline Distributing.
Inline Distributing is Bringing their Unique Disaster Response Unit to Las Vegas
Connections Convention attendees can check out Inline's innovative Disaster Response Unit and learn how the mobile warehouse can speed up post-disaster mitigation and restoration efforts.
Las Vegas, NV (PRWEB) September 07, 2011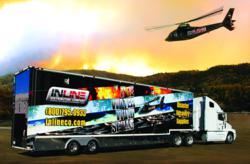 Inline Distributing CEO Scott Bader will unveil the company's Disaster Response Unit at the Connections Convention and Trade Show in Las Vegas September 7th through the 10th. The Disaster Response Unit or DRU can be deployed 24/7 to deal with fires, floods, spills, earthquakes, hurricanes, and tornadoes. Convention goers can get a look at one of these fully stocked mobile warehouses at Booth 915.
The DRU is a fully stocked and continually replenishable mobile product & equipment warehouse, immediately deployed to disaster areas to assist restoration crews in mitigating the effects of the disaster. They represent Inline's commitment to the restoration industry. These innovative mobile warehouses can be equipped in a moment's notice to deal with any man made or natural disaster, including oil spills, earthquakes, hurricanes and floods. Because these DRUs can be dispatched from Inline locations around the country, response time is fast so that mitigation and restoration efforts can get underway quickly.
When a natural or man made disaster occurs, a customer can contact Inline 24 hours a day, 7 days a week and request the mobile DRU be sent to the location. Not only can the mobile warehouse be supplied with all of the materials needed for disaster recovery to begin, but the efforts will also benefit from other DRU features, including on-site satellite reception and generators that will be invaluable to restoration efforts. Additionally, the unit can act as a command center where efforts can be coordinated efficiently throughout an affected area. Regardless of where the disaster occurs, Inline can deploy a DRU immediately from any of the company's six strategically placed locations in northern California, southern California, central Florida, New Jersey, Denver, and Houston.
With the recent earthquake and hurricane on the East Coast, Inline's DRU is a reminder of the importance of fast reactions during any type of disaster. According to Bader:
When a disaster happens, waiting for supplies is not an option. The Disaster Response Unit provides everything our customer would need to begin the disaster recovery process quickly.
In addition to the DRU, Inline has its own reconnaissance helicopter that can provide aerial views of an affected area, aid with identification of the size and scope of the disaster, and provide visuals of the best access routes and ideal staging areas. Inline also has mobile living quarters that can be sent to affected areas with the DRU, so Inline's team can remain "on-site" for any service or supply needs.
Inline is no stranger to providing quality service to its customers. For 30 years the company has provided its clients with dependable service including affordable and guaranteed delivery of top quality name brand products using their fleet of vehicles to ensure that no project was delayed or hindered due to slow delivery or low quality supplies. The DRUs are an extension of that commitment to customer service.
In addition to getting a look at one of these DRUs, visitors to Inline's booth can also enter for a chance to win $500 off their first order from the company or take advantage of the opportunity to pick up some free merchandise while learning more about Inline's state-of-the-art mobile warehouse. In addition, the Inline team will host a by invitation only "Happy Hour" each day of the convention where invitees will enjoy a complimentary specialty beverage, take a tour of a Disaster Response Unit and ask questions about the DRU.
Inline is just one of more than 180 exhibitors who will be on hand at the sold out Connections Convention which will be held at the Las Vegas Hilton.
About Inline Distributing
Having supplied the building industry with construction products for more than 30 years, Inline has become the largest single source provider of environmental remediation, construction, packaging and janitorial products in the Western United States and now has six warehouses strategically located across the country. Recognized for their superior service, their growth is based on a sound business philosophy that allows them to provide the right combination of customer service and product pricing. Their philosophy is that their clients are their partners and they are committed to their growth and success.