New items in stock
Fly 005105 Porsche 917 Martini #22, Spa 1971 – $58.99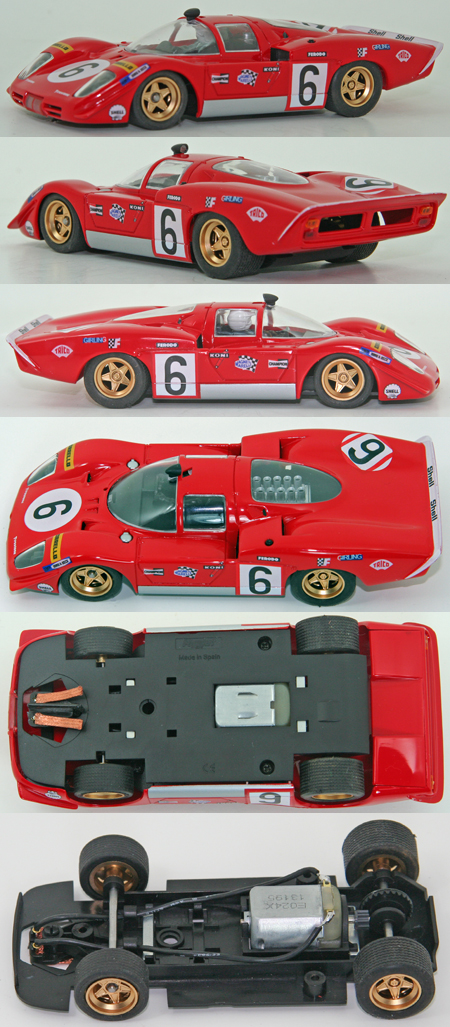 Fly 707101 Ferrari 512S Coda Lunga, #6, 1970 – $58.99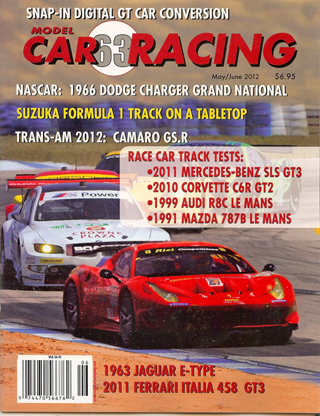 MCR63 Model Car Racing Magazine, May/June 2012 – $6.95
Scalextric C3169A Mercedes SLR/Bugatti Veyron – $119.99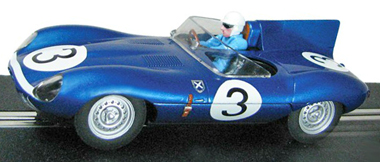 Scalextric C3205 Jaguar D-type, 1957 LeMans winner – $49.99
Scalextric C3213 Classic Mini police car – $49.99
Scalextric C3214 Holden L34 Torana – $49.99
Scalextric C3286 Audi R8, Porta – $52.99
Paint test
We recently received a sample of a paint line we are considering adding to our on-line catalog. The paints are water-based acrylics, so they can be shipped with no problems.  We started looking around for something to test them on and discovered two used Fly Lola T70s one of our people had bought on eBay.  The two bodies both had multiple coats of paint on them that had to be at least a scale inch thick, so the first task was to strip the bodies back down to bare plastic, or as close to it as possible.  Paint stripping has been covered many times on various slot car web sites, but as long as we were going to do it anyway we decided to put it in the newsletter for the benefit of our readers who may not have seen it elsewhere.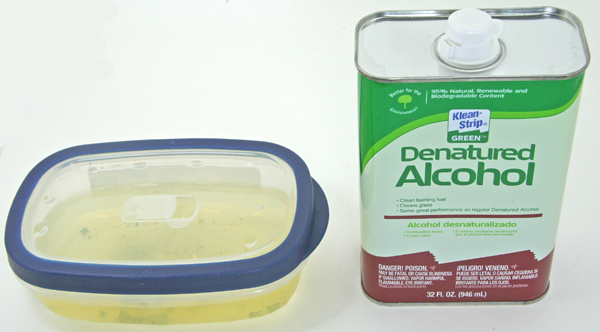 We went to the local home improvement bigbox and bought a can of denatured alcohol, which can be found in the paint department.  Then we went to Wal Mart and looked through the housewares department for a Tupperware-type container just big enough to hold a slot car body.  The container has a tight-fitting lid, which keeps alcohol fumes contained.  It cost about $2.00.  We placed the body in the container, poured in enough alcohol to cover it, and snapped the lid in place.  After 24 hours the paint was ready to peel off the body.  It all came off quite easily except for parts of the initial primer coat, which didn't seem to be as strongly affected by the alcohol.  Another overnight soaking seemed not to make much difference so we washed the body off and wet-sanded away the rest of the primer with 400-grit sandpaper.  We repeated the procedure with the other body and the result is as seen below, two bodies ready for repainting.
The alcohol can be reused after filtering it through a piece of cloth placed in the funnel to remove any paint flakes when it is poured back into the can .  The alcohol is somewhat discolored by dissolved paint, but is still perfectly usable for more paint stripping.  It takes off the paint and does not harm either the body itself or the container.
Next- the repaint itself, coming soon.
Thanks for shopping with us!
The Electric Dream Team
Warehouse phone (310) 676-7600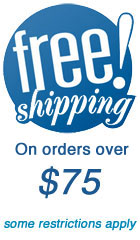 Slot car technical information and advice: support@electricdreams.com
Our warehouse is open to walk-in customers Monday through Friday 9 am to 4 pm.  Next time you're in the greater Los Angeles area stop by and see us at:
606 Hawaii Street, Unit B
El Segundo, CA 90245
We're just minutes from LAX.