New items in stock
New from Proto Slot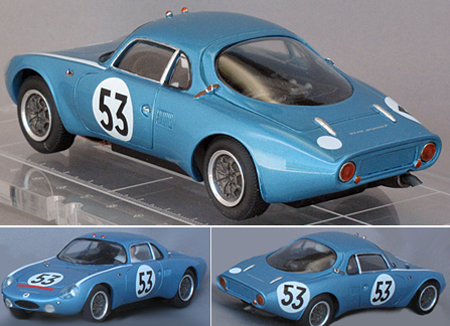 GM024/3 Aerodjet, LeMans 1963, RTR car, race #53 – $205.99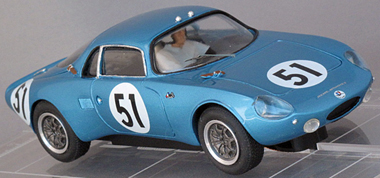 GM024/1 Aerodjet, LeMans 1963, RTR car, race #51 – $205.99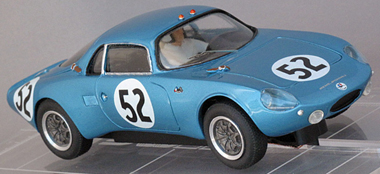 GM024/2 Aerodjet, LeMans 1963, RTR car, race #52 – $205.99
PSK 008 Lola GT, LeMans 1963, RTR car – $219.99
More new Electric Dreams 2-car packs
EDSET-26 McLaren M6A & Avant Slot Peugeot 908 2-car pack – $109.98 value! – $69.99
EDSET-27 McLaren M6B & Avant Slot Pescarolo 2-car pack – $109.98 value! – $69.99
EDSET-28 McLaren M6B & Avant Slot Audi R10 2-car pack – $109.98 value! – $69.99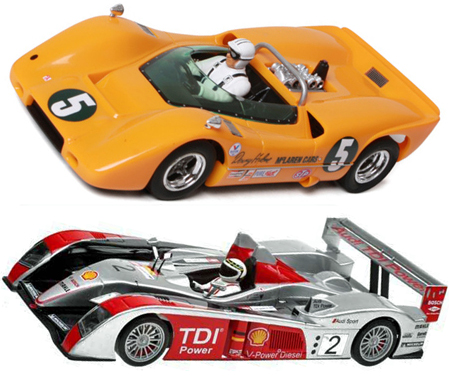 EDSET-29 McLaren M6A & Avant Slot Audi R10 2-car pack – $109.98 value! – $69.99
EDSET-30 McLaren M6B & Avant Slot Audi R10 2-car pack – $109.98 value! – $69.99
New manufacturer – Slot Racing Company
A new slot car manufacturer, Slot Racing Company (SRC) has announced itself to the world.  Photos of some of their projects have been making the rounds of the slot car web sites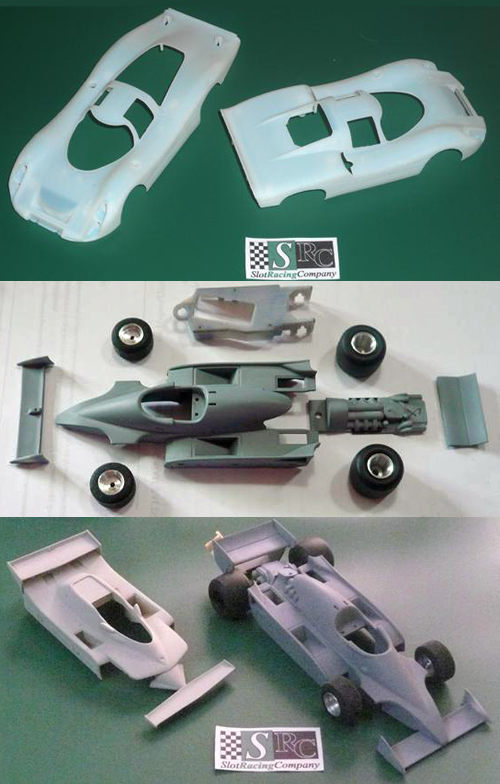 From top to bottom:
Test shots of a 1/32 scale Porsche 907 body in both long and short tail versions.  According to one US distributor who has been contacted by SRC their sports car models, which will be made in injection-molded plastic, will retail in the US for around $100, putting them in the same price range as NSR cars.
Prototype parts for a 1/32 scale 80s F1 car.  SRC's most ambitious plan is to produce a series of 70s and 80s F1 cars with resin bodies.  Note the unusual motor pod design and the metal wheels.
Two prototype F1 bodies.  The F1 cars are expected to retail in the US for around $250, putting them in the same price range as resin Racer cars as well as many other resin-bodied slot cars by "boutique" slot car makers.  These cars appear to be engineered to a higher standard than most boutique cars, which typically consist of a resin body on some kind of generic chassis.  There are few details about chassis and running gear, but if these cars look and run like a Racer car, which uses Slot It mechanicals, they may be worth the price,  One concern, however, has to be all the fragile appendages, such as wings, found on F1 cars.  How resin F1 bodies will stand up to the perils of any kind of real racing will definitely affect the price/value equation for anybody but collectors who will never run the cars.  It seems to us that SRC would do better to make the cars in plastic at $100 retail and make sure lots of spare body parts are available.
We will pass on further information as it becomes available.
On the way to us now from Monogram
Monogram 85-4845 1967 Plymouth, Richard Petty. Preorder now – $49.99
Thanks for shopping with us!
The Electric Dream Team
Warehouse phone (310) 676-7600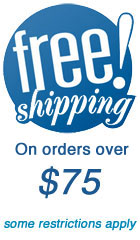 Slot car technical information and advice:  support@electricdreams.com
Our warehouse is open to walk-in customers Monday through Friday 9 am to 4 pm.  Next time you're in the greater Los Angeles area stop by and see us at:
606 Hawaii Street, Unit B
El Segundo, CA 90245
We're just minutes from LAX.