IT'S DAYTONA 500 WEEKEND!
And in honor of the Great American Race's 2012 running we have a special offer for NASCAR fans and bargain hunters alike.
Scalextric C1234-S NASCAR tri-oval set with free extra car – $169.99.  If you're a member of Junior Nation you'll really like this combination because it has cars in two different Dale Earnhardt Jr. liveries, plus Jimmie Johnson's Sprint Cup championship winner to race on a big banked tri-oval.  With extra track sections available separately you can make this set the beginning of a 4-lane superspeedway, your own Daytona in miniature.
Very limited quantities available.  Offer good only while supplies last!
New items in stock
NSR 1019SW Renault Clio Cup orange – $64.99.  A great low price for NSR quality and performance.
Proto Slot CB065/1P Aston Martin DB2/4 Sebring 1958, painted body kit.  $95.99
Proto Slot CB065/2P Aston Martin DB2/4, Tour de France 1959, painted body kit – $95.99
Proto Slot CB066/1P Alfa Romeo 33 Straddle, red, painted body kit – $95.99
Proto Slot GM022P Lotus Europa 1982, red, painted body kit – $86.99
Proto Slot PSK004 Chaparral 1, Jim Hall, 1962, RTR car – $229.99
Recent restocks: Indy Grips tires, Maxxtrac tires, NSR parts, Sloting Plus parts, Racer parts.
In addition, we have expanded our selection of 1/32 scale chassis and other components from Proto Slot.  Proto Slot is well known for its outstanding resin body kits, but it also produces all the bits needed to build its bodies and many others into complete cars.  Proto Slot also has a line of chassis and components for 1/43 scale cars.  They are also well-suited to many smaller 1/32 scale cars.  You can also find a variety of "universal" chassis for scratchbuilding and kitbashing projects on our web site.  Don't forget that a great way to put a complete running chassis under a resin or static kit body is to buy a complete RTR car and use it as a "donor" car.  Also, many of the factory replacement parts for cars from Scalextric, Slot It, Monogram, Racer, Carrera, Pioneer, LeMans Miniatures, and TSRF offer effective and often inexpensive solutions to your special projects parts needs.  Here are a few examples of unique 1/32 scale cars built with factory replacement parts: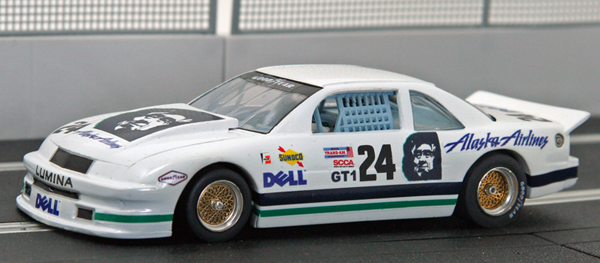 This model is a "TransAm" Chevy Lumina converted from a 90s NASCAR static model body (two of them, actually).  The complete running chassis is a box-stock Pioneer Mustang chassis with wheels and tires made for a Fly Porsche 934.
Here's a heavily modified Cooper Monaco built on a complete Monogram/MRRC Sebring chassis with wheels and tires made for a Carrera Ferrari 512BB and an upgraded guide from Slot It.
This CanAm McLaren is a 70s vintage body on a Fly plastic sidewinder chassis with wheels and tires from a Monogram Greenwood Corvette.
All these cars were inexpensive to build and required only basic modeler's tools to create, yet are all good performers on the track.  You can do your own custom car projects by using donor car chassis and combining them in creative ways with the many stock replacement parts we sell in our on-line catalog.  Of course, we also carry high-performance parts from NSR, Slot It, Sloting Plus, and many others for those who need higher performance for all-out racing situations.  Your choices for giving every car you build exactly the look and performance level you want are nearly endless.  That's a big part of what makes the slot car hobby so much fun for so many people with widely varying skills, specific areas of interest, and personal goals.
Thanks for shopping with us!
The Electric Dream Team
Warehouse phone (310) 676-7600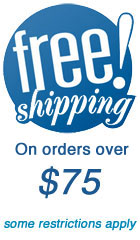 Slot car technical information and advice:  support@electricdreams.com
Our warehouse is open to walk-in customers Monday through Friday 9 am to 4 pm.  Next time you're in the greater Los Angeles area stop by and see us at:
606 Hawaii Street, Unit B
El Segundo, CA 90245
We're just minutes from LAX.