New items in stock
Pioneer P029R 1968 Mustang fastback #25, red wheels – $79.99.  SPECIAL LIMITED PRODUCTION OF ONLY 96 CARS!
Pioneer P031 Stealth Charger – $64.99
Pioneer P034 '68 Charger R/T blue metallic – $59.99
Carrera 30357 Digital Position Tower – $62.99
Back in stock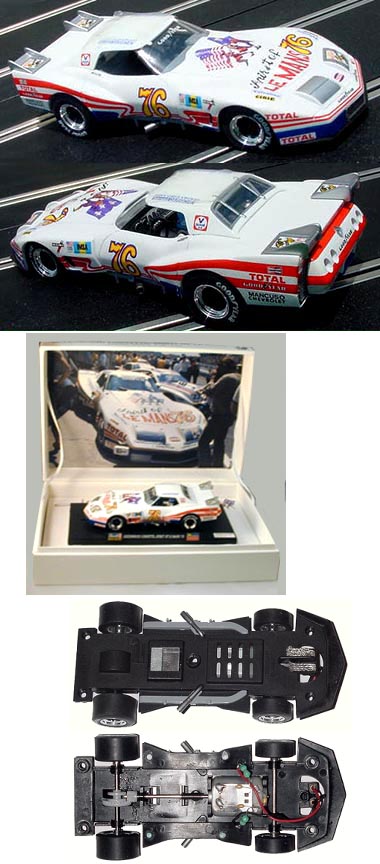 Monogram 85-4863 Greenwood Corvette – $24.95. We have 4 different Monogram Greenwood Corvettes in stock at ultra-low prices.  These cars, with a few simple mods, make great race cars.  The chassis is also an outstanding kitbash platform for many different bodies.
For quick and easy ways to make your Greenwood Corvette faster click here.
New product line in stock
We have just received the Ultracal line of peel-and-stick decals. We presently have these decals in 1/43, 1/32, and 1/24 scale.  They stick well to the contours of a car body and are easier for many people to use than waterslide decals.  Each number, stripe, or other graphic on an Ultracal sheet can be peeled off individually without having to cut them out.  Of course, they can be trimmed to fit as needed.  Each sheet is a full page – 8.5 x 11 inches, making them well wort the $14.99 price.
Here is a Pioneer Mustang we used to try out some of these decals:
Ninco 1 Mustang Upgrade – Part 2
A few newsletters back we showed you how easy it is to put clear windows and an interior in a Ninco 1 Mustang.  Now, we'll show you some easy fixes for the car's somewhat anemic straight line speed and handling.
The first thing we tackled was the car's magnet.  Ninco cars are all designed primarily for non-magnet operation.  The magnets are added more as an afterthought than anything else.  As a result, magnetic downforce, and therefore grip on plastic track, typically leaves much to be desired.  With the stock magnet installation the car registered only 170 grams on our Magnet Marshal. The stock magnet was mounted too high and did not provide downforce over enough of the car's width.  The car needed a proper bar magnet mounted lower in the chassis.
First we snapped the axle assemblies, motor, and original magnet out of the chassis.  Then, using a Scalextric bar magnet as a template, we scribed the outlines of our new magnet pocket into the bottom of the chassis.  We used masking tape to outline the area and serve as a more visible guide for cutting.  We used a Moto-tool with a carbide disc at low RPM to cut out the outlined area, leaving a rectangular opening in the chassis the exact size of the magnet we intended to use.  The front edge of the magnet comes right up to the rear face of the rear motor mount, neatly providing a magnet location that is near-optimum, just forward of the rear axle.   Here's how the new magnet location looks from the top with the magnet teat-fitted in place.
To form the bottom of the new magnet pocket we cit a rectangle of .020″ Evergreen sheet styrene (available in any hobby shop) measuring 1.25″ by 0.5″ and glued it to the bottom of the chassis as shown below:
Note that the new part slightly overlaps the opening for the motor.  This provides additional location for the motor by preventing it from turning in its mount.  With the stock mounting it can turn a couple of degrees either way.  We left the piece of sheet styrene unpainted for clarity in our photos, but a little black paint would make it look like an original part of the chassis.  We used CA glue to glue the magnet into the new magnet pocket.  We decided that since Scalextric bar magnets are no longer available as spare parts we would use a Professor Motor PMTR1055 2mm bar magnet instead.
Our next upgrade highlights one of the best things about Ninco cars.  We had noticed that even with only very mild magnet drag the straight line performance of the Mustang's NC-11 motor was, to put it charitably, lethargic.  A motor swap was in order.  The NC-11 is the only FK130 in Ninco's product line.  The rest are all the long-can  FK180.  There are lots of higher-performance FK130s to choose from, but we decided to go with a Falcon motor we had sitting around just begging to be installed in a car.  This turned out to be the easiest motor swap we have ever done because of a feature found on Ninco cars that we wish every manufacturer would adopt wherever possible.  Ninco uses lead wires with tiny female spade connectors on the ends.  These connectors press-fit onto the tabs on the forward end of the motor, providing a tight, reliable connection with no soldering needed.  Since all FK130s and FK180s use these same tabs, motor swaps on Ninco cars become a plug-and-play undertaking.
There was one small complication.  The shaft on the Falcon is shorter than the one on the NC 11, so when we transferred the stock Ninco pinion over to the Falcon the shaft did not extend beyond it to engage the alignment ring on the crown gear.  That meant we had to put a few washers on the rear axle  between the wheel and the chassis on the left side of the car to pull the crown gear into a proper mesh with the pinion.
Once we got the rear axle lined up properly it was just a matter of snapping everything back together. Here;s what the modified running chassis now looks like:
We lubed everything,  sanded the tires a bit, and put the car on the test track.  With the Magnet Marshal reading now up to a healthy 334 the grip was much higher.  It actually was too high for the Falcon motor on a track powered by stock Scalextric power packs (1 per lane).  The magnet drag was noticeably slowing the car on the straight.  The Falcon motor actually is made to run on more amperage than what we had available.  We either need to install a less amp-greedy FK130 or reduce the magnet downforce, or both.  On a track with more amperage available this car would be a screamer, but for our test track, which is equipped to reflect what a large percentage of our customers have, adjustments are clearly in order.  We'll start by shimming the magnet upward to get it to a more reasonable reading of just under 300.  Then, if needed, we will try some alternate motors, a task made easy by the Ninco lead wire connectors.  Watch future newsletters for an update.
If you have questions or comments about anything in this article please send them to support@electricdreams.com.
Thanks for shopping with us!
The Electric Dream Team
Warehouse phone (310) 676-7600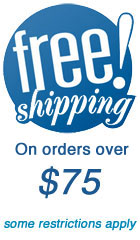 Slot car technical information and advice: support@electricdreams.com
Our warehouse is open to walk-in customers Monday through Friday 9 am to 4 pm.  Next time you're in the greater Los Angeles area stop by and see us at:
606 Hawaii Street, Unit B
El Segundo, CA 90245
We're just minutes from LAX.