New Items In Stock
Carrera 41331 Ferrari F1, Fernando Alonso, Digital 143 – $33.39
Carrera 41332 McLaren F1, Digital 143 – $33.39
Carrera 41337 Ferrari 599 red/black, Digital 143 – $33.39
NSR 1074 Porsche 997 Veltins. – $116.99
NSR 1082AW Mosler MT900R #45 JDK, anglewinder – $110.99
NSR 1082SW Mosler MT900R #45 JDK, sidewinder – $110.99
TSP1 High Performance guide flag for FLY, Scalextric, Ninco… – $3.99
TSRF TSP1B Universal Racing Guide Flag (Bare) – $1.99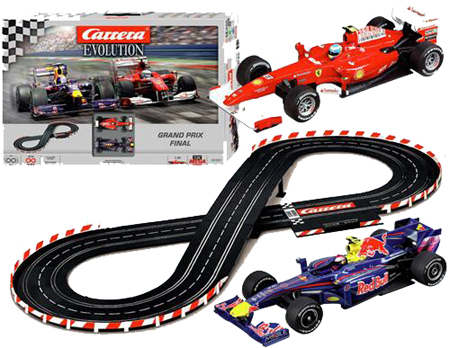 Carrera 25181 Grand Prix Final race set – $183.39
Super Cooper update
Well, here's how it looks now with paint, decals and most of the detail parts in place.  We used the complete cockpit from the Monogram Cooper-Ford with only two changes.  We replaced the driver's head with one from Cartrix because we wanted to save the original head for another purpose, and we painted some stripes on the driver's sleeves.  The black stripes are from the decal sheet in a Pioneer Mustang kit.  The numbers and Coca Cola logos are from the old decal box, and we printed the "ASR" (SCCA A-Sports Racing class) and "Sherlock Homes" decals (more about that next time) on our HP printer.
Here's the rear view.  The rear grillwork and taillights were done entirely with decals, saving a lot of time and effort and allowing a sturdier rear body.  The exhausts still have to be painted and gearbox detail added to the White panel on the back of the chassis, which will then be painted.
And while we were working on this project, we got to wondering what other vintage bodies we have lying around that could be done using the same kind of chassis and wheels.  Here are a few we came up with…
Strombecker McLaren M1B
Strombecker Cro-Sal Wedge
Strombecker Lola T160
Strombecker Lotus 30
These bodies are all fairly common on eBay and can be picked up cheaply.  There are also many more to choose from.  You can flare the fenders, add spoilers, and do all the things enterprising 1:1 scale privateer racers might have done to make their cars more competitive with later ones.  The results will be your own unique creations that look like they could be models of real cars.  It's projects like this where the creative end of the slot car hobby really comes into play.  The Electric Dreams parts categories are full of inexpensive factory replacement parts, chassis, and donor cars that can be used in an endless array of custom car projects limited only by your imagination.
Thanks for shopping with us!
The Electric Dream Team
Warehouse phone (310) 676-7600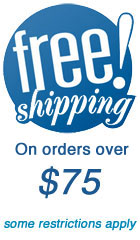 Slot car technical information and advice: support@electricdreams.com
Our warehouse is open to walk-in customers Monday through Friday 9 am to 4 pm.  Next time you're in the greater Los Angeles area stop by and see us at:
606 Hawaii Street, Unit B
El Segundo, CA 90245
We're just minutes from LAX.