New items in stock
This has been one of those weeks in which all kinds of cool new stuff comes flooding in.  Here it is…
BSR018/3P Ferrari 250GT, white, painted body kit – $89.99
BSR018/3R Ferrari 250GT RTR – $215.99
BSR032/1P Ferrari 166, Pescara 1948, painted KIT – $91.99
BSR032/1R Ferrari 166, Pescara 1948, RTR – $215.99
BSR032/2P Ferrari 166, Mille Miglia, painted KIT – $91.99
BSR032/2R Ferrari 166, Mille Miglia 1948, RTR – $215.99
Ninco 20159 Four Lane Pro Set – no cars – $689.99
Ninco 50540 Lotus Exige rally car, Vallejo – $69.99
Ninco 50578
Mercedes SLS GT3 Lightning "Viage" – $84.99
Ninco 50597
Audi R8 GT3 Lightning "Total" – $84.99
Ninco 50598
Citroen C4 Lightning, "Novikov" – $84.99
Ninco 50599 Jaguar E-type (XKE) roadster, green – $79.99
Ninco 50601 Porsche 550 Spyder, red – $79.99
Ninco 55044
Mustang FR500 "DHL" – $57.99
Ninco 55053 Mercedes SLS GT3 Team Holland – $54.99
NSR 1094AW Audi R8 GT, Playstation – $101.99
NSR 1099AW Porsche 997 Coca Cola – $101.99
NSR 1106IL Audi R18 #1 – $101.99
NSR 1109SW Ford P68 (F3L), silver #6 – $101.99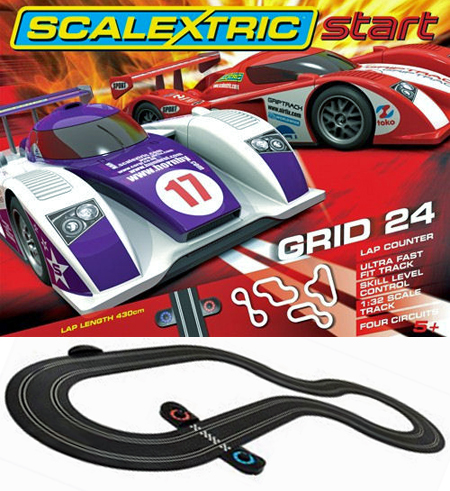 Scalextric C1286T Start Grid 24 race set – $109.99
Scalextric C1287T Start Rally Champions race set – $129.99
Scalextric C3294 Mercedes SLR GT, Linfox – $52.99
Scalextric C3302 Classic Mini Cooper S, Bob Holden – $52.99
Sebring Chassis Jaguar kitbash
Here's a very simple conversion project for anyone wanting to try kitbashing for the first time.  It's an old Revell Highway Pioneers Jaguar XK120 body mounted on a completely box-stock Sebring running chassis from a Monogram Cooper-Ford.  The Jag body is long out of production but examples of it turn up frequently on eBay.  This project, however, illustrates the ease of adapting the Sebring chassis to almost any body you need a simple, inexpensive, and adjustable chassis for.
We chose the Sebring chassis as used in the Monogram Cooper-Ford because it comes with a set of early 60s wheels that look just perfect with the Jaguar body and are very similar, if not identical, to wheels that were used on Jaguars and other production sports cars in SCCA competition in the 60s.  In addition, the width through the wheels and tires was a perfect match for the Jaguar shell, which had had the original skirted rear fenders opened up.  MRRC and Monogram cars that use the Sebring chassis come with quite a variety of different wheels as used on the various cars being modeled.  You can select as a donor car the one that has the wheels you are looking for or you can buy the complete running chassis without a body and put inserts of your choice into the plain disc wheels or use other wheels and tires completely.
You can see in this photo that the chassis needed only to haver its wheelbase adjusted longer to fit the Jaguar body.  To do that we had to remove the two plastic chassis inserts, shown to the left of the chassis, that held the wheelbase to the length needed for the Cooper model.
Here you see the body mounts we made from styrene sheet and tube, available at almost any local hobby shop under the name of Evergreen or Plastruct.  As the car stands right now we could mount the body, put it on the track, and run it, but of course we are going to restore the body with a new paint job, decals, interior, and detail parts, which we will show you in a future newsletter.  Getting the car to this point only took a couple of hours.  Depending on how much paint and detail work you want to do you can easily have a car ready to race on your track in an afternoon.
Roy Salvadori and Cotton Owens
A couple of issues ago we devoted this entire newsletter to a tribute to Carroll Shelby.  Now comes word of the passing of Roy Salvadori, Shelby's driving partner in his 1959 LeMans victory.  Salvadori also competed in Formula One from 1952 through 1962 and managed the Cooper F1 team in 1966-67.  The drivers whose exploits we followed so avidly in our youth are getting fewer and fewer, but their achievements live on in our memory.  Rest in peace, Roy.
We also note that Cotton Owens, who had a long NASCAR career as a driver and a car builder and was elected to the NASCAR Hall of Fame, passed away recently.  He, too will be missed.
E-mail matters
We have had several instances lately in which we have replied to a customer's e-mail message and the e-mail system has been unable to deliver the message as addressed.  This is almost always the result of the return e-mail address being somehow invalid or not accepted by the system.  It is our policy to reply to all e-mails we receive within 1 business day, usually sooner.  If you have sent an e-mail message to our sales department (shop@electricdreams.com) or to our technical support department (support@electricdreams.com) and have not received a reply please call us at 310-676-7600 so we can resolve the e-mail problem and maintain reliable e-mail communication with you.  Thanks!
Thanks for shopping with us!
The Electric Dream Team
Warehouse phone (310) 676-7600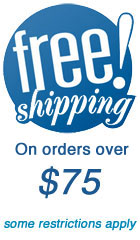 Slot car technical information and advice: support@electricdreams.com
Our warehouse is open to walk-in customers Monday through Friday 9 am to 4 pm.  Next time you're in the greater Los Angeles area stop by and see us at:
606 Hawaii Street, Unit B
El Segundo, CA 90245
We're just minutes from LAX.