Here's what's happening this week…
New Items In Stock:
MRRC MC0046 Porsche 904, red. – $56.99
Ninco 50560 Mosler MT900R Lightning – $89.99
Ninco 55009 Mustang FR500 GT3 – $53.99. This is a Ninco 1 car with blacked-out windows and no interior, but the more we look at it the more we are convinced that of the three companies offering 1/32 scale models of the Mustang FR500 Ninco has dome the best job of getting the overall look of the car right, and it's the only manufacturer producing one with a wing on it.  The wing give the car an aggressive look the others lack.
Ninco 55021 Megane Trophy "McGregor" – $53.99
Scalextric Traction Magnets Availability

Many of our newsletter readers and other customers have wondered why Scalextric traction magnets have been unavailable as replacement parts for the last several months.  The Consumer Products Safety Commission has determined that magnets are small parts that may appeal to children who might swallow them with possible dire medical consequences.  As a result of that determination, Hornby Hobbies, the manufacturer of Scalextric, has discontinued selling the magnets as separate parts.  Scalextric cars will still come with traction magnets, however.  The thinking, apparently, is that a magnet securely tucked away inside a car is safe from becoming a hazard. Replacements for the standard Scalextric bar magnet are available in the Electric Dreams catalog, from Slot.It and other companies.
Just for fun…
Easy Front Spoiler for Pioneer Mustangs
The early TransAm rules didn't allow the cars to use add-on aerodynamic devices such as front and rear spoilers, but as time went on and the rules loosened up just about all of those cars eventually received some aerodynamic upgrades.  You can add a front spoiler to your Pioneer Mustang easily and inexpensively by modifying a spoiler from a Scalextric 69 Camaro.  All you have to to to the part to make it fit the Pioneer chassis is grind away some material as shown below so it will fit around the Mustang's guide housing.  The front body posts are the same distance apart on both the Scalextric Camaro and the Pioneer Mustang, so the modified spoiler bolts right on.
This photo shows the stock spoiler (l.) and the modified one.  We removed the material using a Dremel Moto-tool with a sanding drum.
With care, you can modify the Scalextric part for a nice, snug fit onto the Pioneer chassis.  Some Pioneer cars have body mounting screws with heads too large to fit inside the spoiler.  If that's the case with yours just rummage through your junk box for a pair of screws with smaller heads.  They are used on many different cars.
The spoiler gives your car a look different from all the other Pioneer Mustangs on the track and more aggressive.   If you don't have one in your junk box the spoiler is available in the W8813 parts pack.
CanAm McLaren M12 Update
You'll recall that a while back we showed you the beginnings of a project to provide a 70s-vintage CanAm body with a modified Fly chassis and build it up into a finished car.  This project has been on the back burner for a while, but we have been working on it this last week.    Here's how it looked when we left off:
Since this photo we have been working on opening up as many of the body openings as possible, using a Moto-tool with various attachments, a sharp hobby knife, and emery boards.
In this shot you can see that we have cut away the molded-in driver figure, drill ed out the row of holes next to the cockpit, and opened up the vents in the fenders.  We have also started to modify the opening for the car's engine intakes.
Here's a closer look at the openings in the front fenders..
In this photo you can see that we have opened up the center opening in the rear of the bodywork.  It will be filled with new exhausts and fine-mesh screen.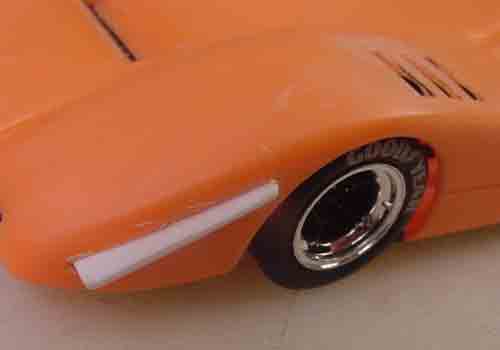 We've also added tabs at the front corners of the car.  Many CanAm cars had problems with understeer and received aero add-ons like this to try to generate more grip at the front end of the car.
Overall, here's how our car looks now.  Watch for updates in coming editions of the newsletter.  Ad don't forget, you can see all our previous newsletters in our newsletter archive.    If you have any comments or questions about this article or any of our articles please send them to support@electricdreams.com.
Our warehouse will be closed Monday, May 31 for Memorial Day, but on-line ordering through our web site is available 24/7/365.
Have a great holiday weekend!
Thanks for shopping with us!
The Electric Dream Team
Warehouse phone (310) 676-7600