Just announced by Ninco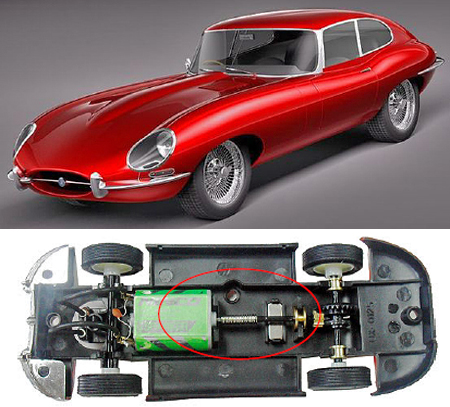 Ninco 50579 Jaguar E-type (XKE) coupe. Preorder now! – $74.99
Ninco 50596 Jaguar E-type (XKE) Lightweight. Preorder now! – $74.99
Ninco 55050
Mercedes SLS GT3 "Postbrief". Preorder now!  $54.99
New chassis design announced by Flyslot
These are the first CAD images of the forthcoming Flyslot Alpha chassis to be released.  Cars with this chassis are scheduled to begin arriving sometime in the new year.  The design is simplified over previous Fly chassis and looks sturdy and workmanlike.  It is shown here with an FC130 motor installed but it looks like it could accept an FK130 with few or no modifications other than the use of an adapter ring.  Note the magnet positions both forward and aft of the motor.  The design appears to give ample room for tires of any width that might be needed.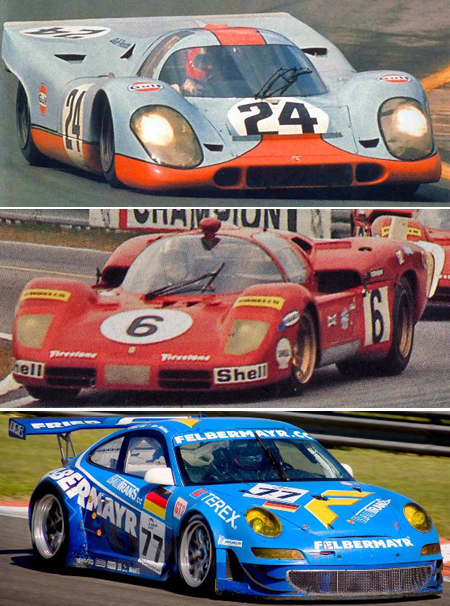 The CAD drawings show the chassis as configured for a Porsche 917K body, and sure enough, a 917K is among the first Alpha-chassis cars announced for production, along with a Ferrari 512S and an all-new Porsche 997.  The longevity of the Fly brand has been in question for some time now, but we will take the new product announcements as signs of the company being able to get itself on a more sound financial footing and move ahead with new products.  There are indications that the new Alpha cars may carry significantly lower prices than previous Fly / Flyslot cars.  If that is the case and if the new chassis and the cars built on it can overcome the company's long-standing quality control issues at a better price point there should be real optimism for the future.  We will have more complete information in next week's newsletter.
On its way to us now
Slot It SICA20Z Ford GT40 MkII, all white. Preorder now! – $54.99
Coming soon from Carrera

Carrera 30551 Mercedes SLS GT3 Black Falcon, D132. Preorder now! – $53.39

New items in stock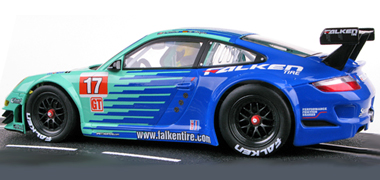 Carrera 23759 Porsche 997, Falken, Digital 124 – $75.49
Carrera 23765 Maserati streamliner, burnt copper finish 1/24 – $83.79
Carrera 27372 Porsche 935/78, PPG – $34.99
Carrera 30578 Porsche 935/78, PPG, Digital 132 – $53.39
Carrera 61212 GO! Ferrari 458, 1/43 scale – $14.99
Carrera 41353 Ferrari 458, Digital 143 – $33.39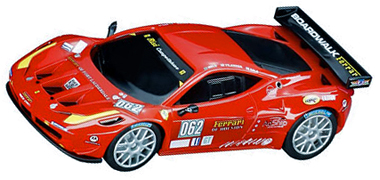 Carrera 61211 GO! Ferrari 458, 1/43 scale – $14.99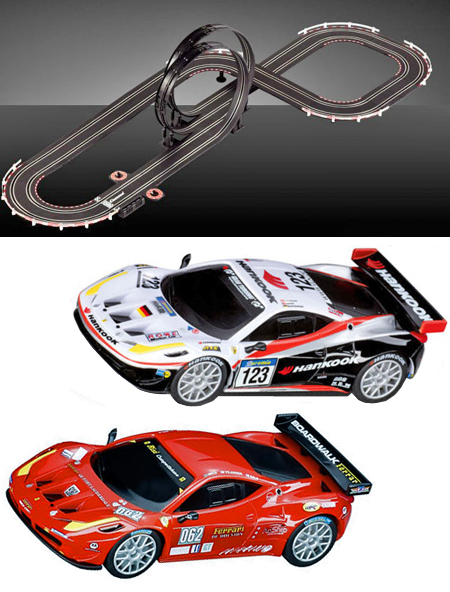 Carrera 62246 GO! Ferrari GT race set 1/43 scale – $83.39

NSR 1086 Audi R8 GT, red – $112.99
NSR 1087 Audi R8 GT, silver – $112.99
Scalextric C1275T Digital Race Line race set – $319.99
Scalextric C1278T Turbo Flyers race set – $159.99
Scalextric C1279T Full Throttle race set – $269.99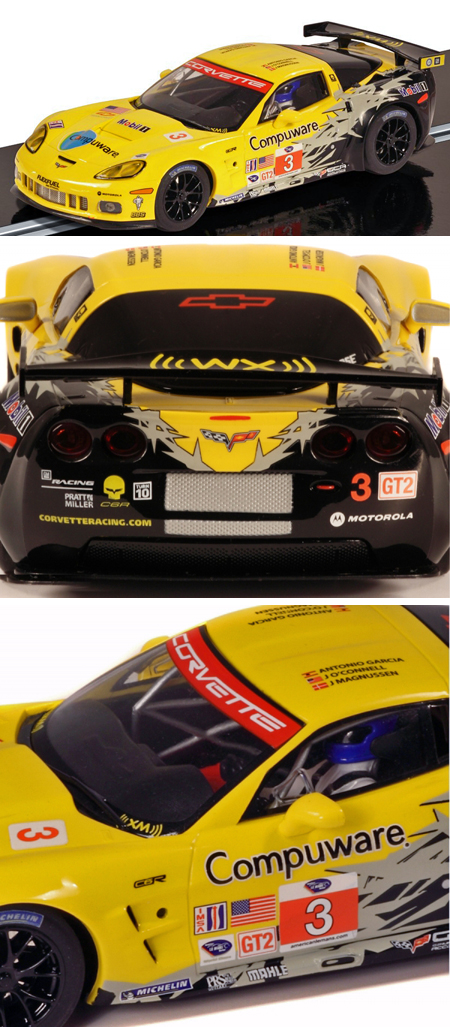 Scalextric C3189 Corvette C6R GT2 – $49.99
Restocks received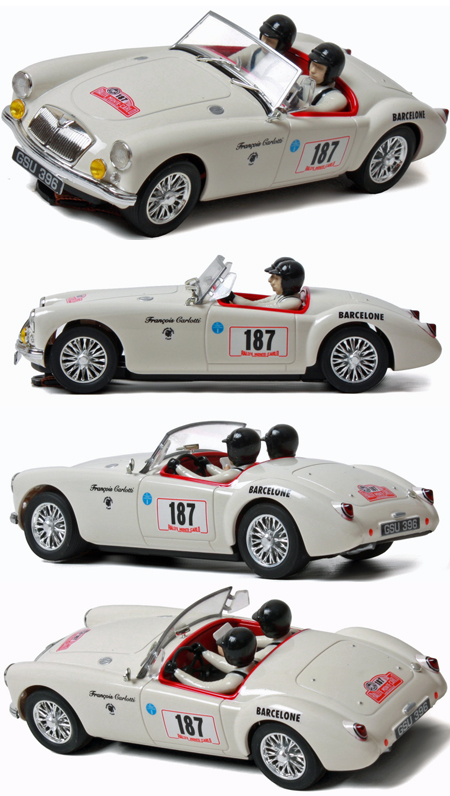 SCX A10032X300 MGA, white – $49.99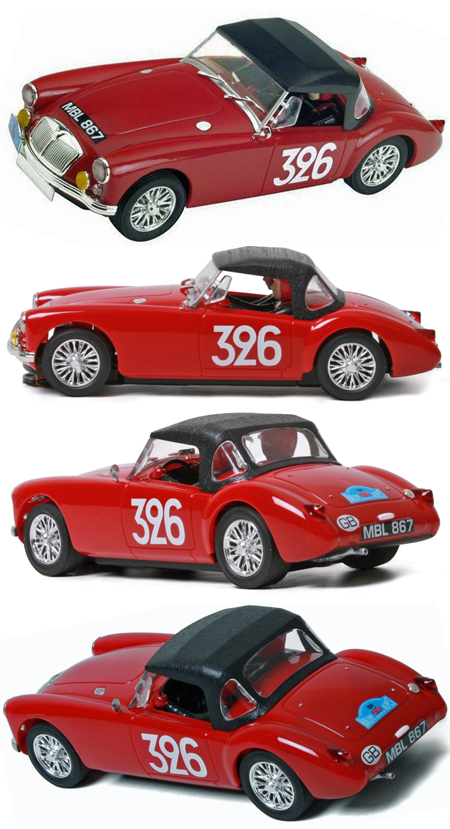 SCX A10039X300 MGA, red – $49.99
Thanks for shopping with us!
The Electric Dream Team
Warehouse phone (310) 676-7600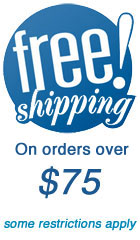 Slot car technical information and advice: support@electricdreams.com
Our warehouse is open to walk-in customers Monday through Friday 9 am to 4 pm.  Next time you're in the greater Los Angeles area stop by and see us at:
606 Hawaii Street, Unit B
El Segundo, CA 90245
We're just minutes from LAX.