Just announced by Racer
Sideways Zakspeed Capri CAD image
Sideways Lancia Beta Montecarlo CAD image
Racer Slot Cars just announced plans for a major expansion of its Sideways line of slot cars.  The first two cars scheduled for production are the Zakspeed Capri and the Lancia Beta Montecarlo (images above).  In addition, Racer's project list includes the BMW 320, Sauber BMW M1, Porsche 935L IMSA, Porsche 935/77,  Mustang GTP, Kremer 935K3 and Moby Dick.  Racer is moving into a segment of the market vacated by Fly and can be expected to produce models with better performance and overall quality.  Clearly Racer, which started as a boutique maker of resin-cast slot cars is moving full-bore into making the transition to a mainstream volume producer of all-plastic slot cars with production in China to keep prices down. We will publish additional information on Racer's new range of cars as it becomes available.
Just announced by BSR
BSR030 Mercedes 300 SL, Paul O'Shea, SCCA racing 1957.  Paul O'Shea was a very well-known production class driver who enjoyed considerable success in the 1950s with his Mercedes 300SL.  We will have this car in both RTR and painted kit versions up for preorder shortly.
New items in stock
Carrera 61198
GO! "Cars 2" Raoul Caroule 1/43.  $16.69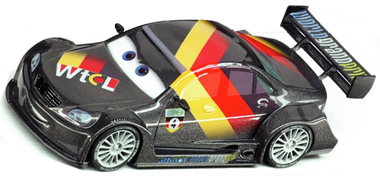 Carrera 61199
GO! "Cars 2" Max Schnell, 1/43 scale.  $16.69
Carrera 61215 GO! Ferrari 599XX, yellow, 1/43 – $14.99
Carrera 61230 GO! Spongebob Squarepants, 1/43 scale – $16.69
Carrera 61231 GO! Patrick, 1/43 scale.  $16.69
This just in… The government of Bikini Bottom is said to have made a very large cash offer for the rights to run a Formula One race on a circuit yet to be constructed beginning in 2014.  Bernie Ecclestone is reported to be giving the offer "serious consideration" according to an F1 insider who agreed to comment on condition of anonymity.  The principal concern is believed to be the technical issue of what kind of tires the cars will race on.
Carrera 61656 GO! half straight 1/43 scale, pk. of 4 – $11.99
Carrera 61658 GO! short straights 1/43 scale, 6 pcs. – $11.99
These two new track items in the Carrera GO! 1/43 scale track system represent a very important development in the progress of 1/43 scale  slot car racing.  They give the GO! track system four different straight track section lengths.  This adds tremendous versatility to the GO! system, exponentially increasing the track builder's layout options and making complex layouts, especially those modeling real-world racing circuits, much easier to build.  They, along with other additions, vault the GO! system to the forefront of 1/43 scale track systems and take it from the toy end of the market to a place where it now deserves serious consideration from adult hobbyists, helping to set the stage for 1/43 to begin a period of rapid growth and development similar to what  1/32 scale began to experience around 10 years ago.  This is positive for the future of the entire slot car racing hobby.
Fly F01105 Williams FW07, Geoff Lees – $85.99
Fly F02104 Ferrari 250LM, David Piper, Tony Maggs – $83.39
Fly F17101 Porsche 911S, U-2.5 TA champion 1968 – $83.99
Fly M04101 Fiat Punto rally car – $57.99
Fly M04102 Fiat Punto rally car – $57.99
Ninco 20154 Mustang Showdown race set – $246.99
Slot It SICA12C Audi R8C #10 Le Mans 1999 – $64.99
Slot It SICA18Z Ford GT40, all white – $54.99. Well, almost all white…
Ninco 50587 Jaguar XK120, Donington – $82.39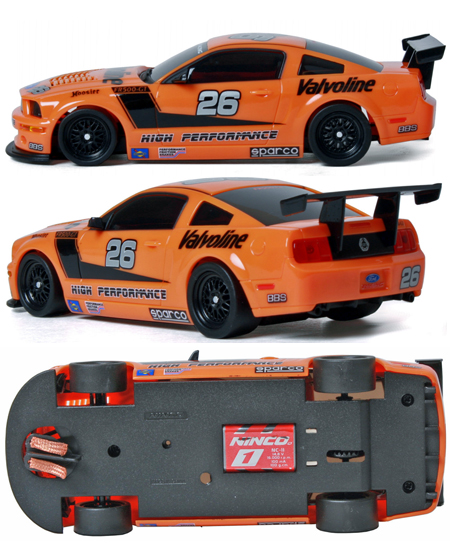 Ninco 55032
Mustang FR500 "Ohio".  $59.99
Ninco 55037
Mustang FR500 "Ohio", digital.  $74.99
Ninco 55033
Mustang FR500 "Green".  $59.99
Ninco 55038
Mustang FR500 "Green", digital.  $74.99
Pioneer Bullitt Charger converted to a stock car
One of our customers, who prefers to remain anonymous, sent us this article and photos…
Deep in the vast American heartland there's a wicked-fast half-mile oval with smooth, sticky asphalt, progressive banking, and two great racing grooves. The racers at this track are a special breed. They either remember or have grown up on tales of stock car racing's golden era, the 60s and 70s, before NASCAR went all tube-frame spec cars. And they are determined to keep the magic alive and kickin'. So, they've quietly scoured the country to find real old stock cars from those days. Of course, real racing stock cars of that era have mostly been found and over-restored by wealthy vintage racers, bit every now and then, in some forgotten corner of America, they find one and truck it home. There they rebuild the cars so they look, sound, and drive like in days of old, but they plug in the best of modern safety and performance technology. They also build replicas from old road cars they find.. well, they aren't saying where. Then they take these cars out to the track two Saturday nights a month from May through September and race the wheels off 'em. Oh, and it just happens that the half-mile oval is part of a racing complex that includes a 2.8 mile road course. So, just for a change of pace, one Sunday a month they road-race the cars. Oval or road course, these drivers still think that racin' is rubbin' and that's how they drive, but they don't let the cars get all ratty looking; these racers take pride in how their cars look. The whole countryside turns out for the races. In fact, it seems like half of 'em are in somebody's crew. And practically every business for 100 miles around has its name on the fenders of one of the cars, or two, or half a dozen. The locals call them…
SATURDAY NIGHT SPECIALS!
Here's one of them…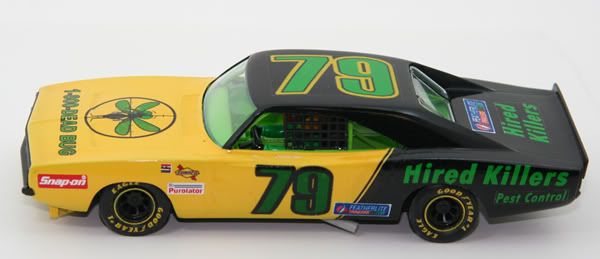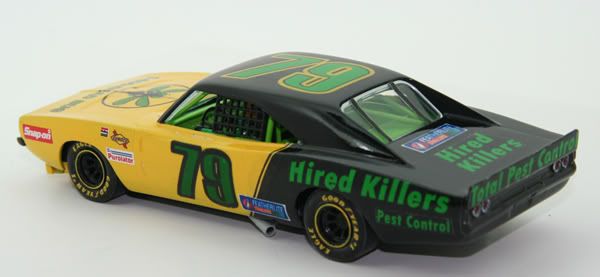 This one is said to have started life as one of the Dodge Chargers used to film the movie Bullitt. Where they found the car is anybody's guess, and they aren't telling. It uses the Charger chassis completely unchanged, except for swapping the wheels and tires for a set from a Scalextric NASCAR. The Charger body has been lowered over the chassis by the simple expedient of shortening the body posts and grinding out the wheel openings farther up into the body. The wind wings are gone and the window "glass" modified accordingly. The interior is lifted from a Carrera vintage stock car, unchanged except for a modern helmet on the driver and a slight bit of surgery to clear the endbell on the motor. It fits like it was made for the car. The front air dam is just a rectangle of sheet styrene glued (with some extra material added for strength) to two pieces of styrene tubing that press-fit into the front body screw holes, still allowing the screws to be inserted through them and tightened down. Exhausts are from a Scalextric TransAm car, and a piece of sheet styrene glued to the trailing edge of the body makes a spoiler. The rest is just paint and decals, and most of the decals were printed on an HP inkjet printer using Micro Mark decal paper.
Would you like to see cars like his in production?  It could happen. In fact, we have reason to believe it will happen in the foreseeable future.  There is a substantial market out there for historic stock cars with better on-track performance than Carrera's or Monogram's.  We already know that Pioneer can deliver the performance.  In addition, Pioneer is already more than halfway to being ready to produce a Charger stock car.  They can use their existing Charger complete running chassis as is with the exception of swapping out the wheels and tires and adding racing exhausts.  Much of the design work to produce a stock car version of the body can draw upon the design work already done on the road car body.  They won't be starting from a blank screen.  The basic Charger chassis design, with minor changes in wheelbase and outline, will fit under any of the stock cars raced from the late 50s through the 70s.  All the essential structural elements will remain the same.  In essence, Pioneer would simply have to do on a CAD program what our customer has done in actual plastic, and it's not that difficult a conversion.  Another fact that isn't widely known is that the Charger R/T body, as distinct from the charger 500 with it's "fastback" rear window treatment, was actually used for stock car racing and examples can be found in various photo archives, so we are talking about real historical race cars as well as the opportunity for fantasy liveries like the one shown here.
This is a story that is just beginning to unfold.
Thanks for shopping with us!
The Electric Dream Team
Warehouse phone (310) 676-7600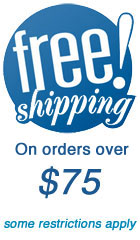 Slot car technical information and advice: support@electricdreams.com
Our warehouse is open to walk-in customers Monday through Friday 9 am to 4 pm.  Next time you're in the greater Los Angeles area stop by and see us at:
606 Hawaii Street, Unit B
El Segundo, CA 90245
We're just minutes from LAX.