Silverstone has a special place in the hearts of Ferrari fans as it was here that, in 1951, Jose Froilan Gonzalez scored the first ever World Championship victory for Scuderia in a Ferrari 375.
This quote catches the excitement:
"To me the grid was Hades and the engines were instruments in a hellish concert. My heart felt as if it would burst. Breathing was difficult. Then, just before I felt I must pass out, the starter's flag came down. We were away. And what a start it was. The four of us in the front row, trying to lead the pack, accelerated so suddenly that our wheels spun while the cars moved forward in slow motion, leaving behind a cloud of rubber smoke through which the other cars roared, overtaking us like arrows! When our tyres got a grip on the track we found that instead of being pursued we were pursuing, trying desperately to find a gap in the crush of vehicles to catch up the leaders."
The Scalextric model
The Ferrari 375 was one of the first Scalextric cars ever made. Faithfully reproduced by Scalextric in 2007, the Ferrari 375 features a plastic body to complement the tinplate bodied version in our C2782A 50th Anniversary set. The Ferrari car demonstrates the evolution of Scalextric over the past 50 years. Excellent build quality and attention to detail is to the normal high standard. The quality of the printed decoration is excellent.
You can Pre-order this amazing Vintage Reproduction here: Scalextric 375 Tinplate.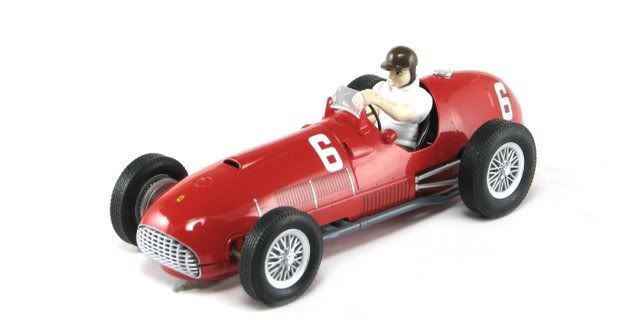 You can check even more Scalextric Historic F1 Cars here