New low prices on selected Racer cars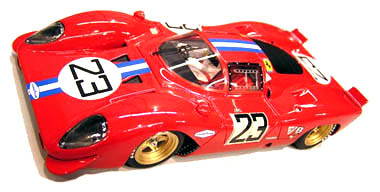 Racer RCR32 Ferrari 312P Daytona 1970 (C18) – $199.95.  PRICE REDUCED!  Was $269.99.
Racer RCR38B Ferrari 312P #19. LeMans 1969 – $199.95.   PRICE REDUCED!  Was $269.99. 
Racer RCR39 Ferrari 330P, Sebring 1965 – $216.95. PRICE REDUCED!  Was $289.99.
Racer RCR40 Porsche 935 K3, LeMans 1980, RTR – $199.95.  PRICE REDUCED!  Was $259.99.
Racer RCR40K Porsche 935K3 Sachs, unpainted kit – $115.95.  PRICE REDUCED!  Was $154.99.
Racer SW01 Riley-Matthews Riley Mk XX – $52.49.  PRICE REDUCED!  Was $69.99. 
New item in stock
Slot It SICA25A Porsche 962 IMSA, Daytona 1986 – $64.99
Carrera McLaren M20 project – the journey continues…
Last time we completed the mating of the TSRF rear pod to the Carrera McLaren M20 chassis, converting the car into a sidewinder.  Here's how the chassis looks now.
In this photo you can see the lead wires in place.  They were cut from a meter-long piece of silicone-insulated lead wire we keep on hand for projects like this.  Our web site sells silicone lead wire from many different manufacturers.  To find them just type the words lead wire into our site's search engine.  This photo also shows the brass washers we glued onto the rear body mounts to raise the rear of the body back up enough to clear the TSRF motor installation.  The washers are temporary.  Later we'll add some length back into the body posts.   You can also see the sanded rear tires (which need to be sanded a bit more).  The front tires have been turned down about 1/16″ to make the front of the car sit lower.  That's about all you can take off without cutting into the lettering on the sidewall.   If you don't care about that they could stand to be taken down a bit more to get the front edge of the body even lower.
We also did some work on the interior tray.  We like the intake manifold/injector trumpet detail incorporated into it, but with the new motor arrangement it's too thick to let the body sit at a proper height.  So…
We removed the roll bar and driver figure.  Then we cut the tray apart at the rear of the cockpit.  We then cut the intake manifold detail out of the rear part of the tray that we had just removed and then glued it to a rectangle of .020″ sheet styrene.  The little triangle snipped off one corner is to clear a contour on the underside of the body.  The hole in the styrene rectangle is for the roll bar's rear brace. 

We drilled out the broken-off mounting pins of the original plastic injector stacks, which are too fragile.  Into each hole we CA glued a piece of 1/16″ wire-filled tubing.    Using them as a very secure and sturdy mounting we CA glued a Parma #622 International 32 front axle spacer over each one. The result as shown at right above, is an engine intake detail assembly that is much more survivable than the original.  We'll paint the whole assembly before we're done.
Here's the car, put together for testing with the interior and engine detail temporarily taped in place and the body sides not yet put back on.  You can see that it's really starting to come together. The TSRF FK130 motor we're using is, as we suspected, too much motor for the power we want the car to be able to run on, a stock Scalextric power pack on each lane.  We know from experience it will eventually heat up the Scalextric pack enough to pop its internal circuit breaker. But for the moment it serves for testing, despite its 2-amp draw from rest.  We'll replace it with a better-suited motor before we're done.
The car still has too much magnet but it is much more drivable, even with the stock Monogram Greenwood tires on it.  Silicones will come a bit later.  As of now we've just had time to give the car some shakedown laps to see if everything is staying in place and all the moving parts are turning freely.  It's looking good, though we will still have to look for a way to get the magnetic downforce lower.  More about magnets in the next installment.
If you have comments or questions about this article please send them to support@electricdreams.com.
Thanks for shopping with us!
The Electric Dream Team
Warehouse phone (310) 676-7600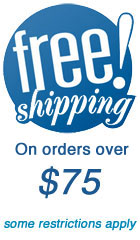 Slot car technical information and advice:  support@electricdreams.com
Our warehouse is open to walk-in customers Monday through Friday 9 am to 4 pm.  Next time you're in the greater Los Angeles area stop by and see us at:
606 Hawaii Street, Unit B
El Segundo, CA 90245
We're just minutes from LAX.